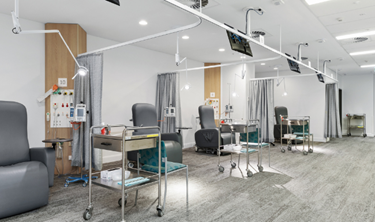 St Vincent's Private Hospital Sydney John Symond Ambulatory Care Centre
Welcome to our day infusion centre
At the John Symond Ambulatory Care Centre, St Vincent's Private Hospital Sydney.
In our modern and comfortable environment, we provide chemotherapy and other anti-cancer therapies as well as blood products in a 10 chair, 3 treatment room centre. We treat patients with various types of cancer and other conditions, with an experienced and dedicated multidisciplinary team of doctors, nurses and allied health staff as well as our administrative and support teams.
Chemotherapy
Chemotherapy is the use of anti-cancer drugs to destroy cancer cells, given by a drip in the vein, injections or tablets.
Blood products
Including red cell transfusion, platelet transfusion
and immunoglobulin transfusion.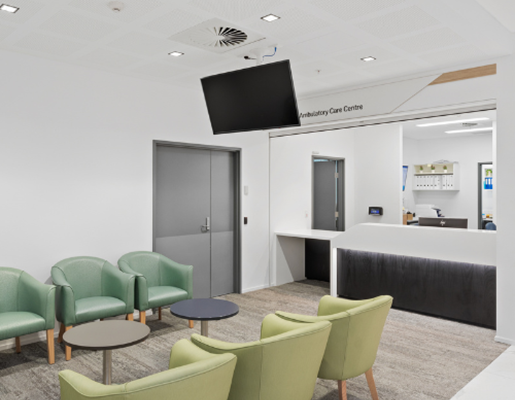 Coming to our centre as a new patient
Your doctor will book you in to the centre and you will receive a phone call from our centre team to organise and confirm an appointment.
As a new patient to the centre and to better prepare you for your visit, we strongly recommend that you:
Contact your health fund to confirm your level of cover
We recommend checking the following:
Have you served your waiting periods from the time you joined?
Does your policy carry any restrictions?
Does you level of cover adequately for the hospital treatment requested by your specialist?
Do you have an excess or co-payment to pay on admission?
Complete our online admission form
After your booking has been confirmed, we strongly encourage you to complete an online admission form. This is a safe and secure online portal that enables you to complete your preadmission forms prior to admission to hospital. Please note, you only need to complete this admission form once before you first visit.
Upon completion of your booking, we will complete an online eligibility check with you heath fund to confirm you are covered for any out of pocket expenses. We will bill your health fund directly for both your hospital stay and in-hospital medication administered during your treatment.
Information for existing patients
We recommend booking your appointments while you are in our centre. Otherwise, our ACC staff will contact you if an appointment needs to be made.
If you need to contact the centre, please phone (02) 8382 7140 or email infusion@svha.org.au.
We kindly ask that you arrive on time for your appointments as a late arrival may result in a delay in your treatment.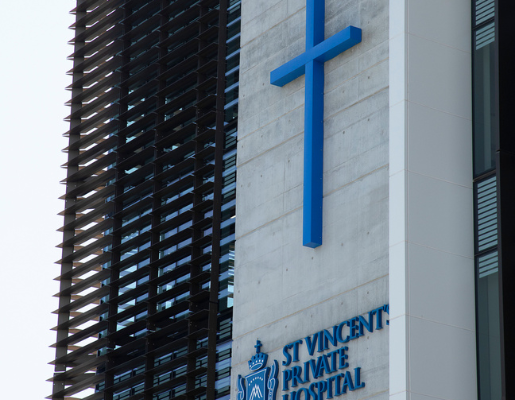 St Vincent's Private Hospital sits at the centre of St Vincent's Sydney health campus, alongside St Vincent's Hospital Sydney and the St Vincent's Clinic.
There is an easily accessible patient arrival and departure area at the main entrance to our hospital, located on Victoria Street.
Accessible secure parking is available at the St Vincent's Clinic, which is located next door to our hospital. Please visit the St Vincent's Clinic website to see car park opening hours and rates.
Find out more about our cancer care approach
We know that there's no one-size-fits-all with cancer and at St Vincent's Private Hospital Sydney, we advocate a personalised approach to cancer treatment.
This approach is holistic, evidence-based and focuses on you as an individual, with your goals and wishes at the forefront of the decision-making process. You will be supported by an experienced and compassionate team who are available to assist in your treatment and wellbeing to ensure you receive the best level of care, support and education. You can read more about our oncology services here.