Sister Bernice Elphick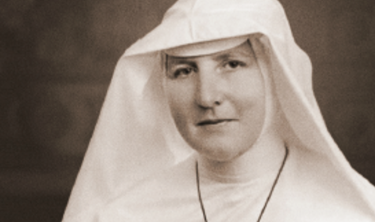 Alice Nolan Elphick was born on the 4 August 1921, in Foster, Victoria to Herbert and Sarah Elphick. Her father was both a farmer and a railway engineer. Alice had three brothers and two sisters.
In 1938 after completing her Leaving Certificate at the University High School in Parkville, Victoria, Alice proceeded to undertake her General Nursing Training at St Vincent's Hospital, Melbourne. At the completion of her nursing training, Alice entered the Novitiate of the Sisters of Charity on 2 July 1943 and was professed on 14 January 1946, taking the name Sister (Sr) Bernice.
Sr Bernice was appointed a Ward Sister in 1946 at St Vincent's Hospital in Sydney before moving to St Vincent's in Launceston, Tasmania, then St Vincent's Hospital in Melbourne and later, St Vincent's Maternity Hospital in Melbourne where she completed her midwifery training. Her administrative ability was evident, and she was appointed once again to Launceston, Tasmania from 1957-1962 as Mother Rectress. While there, she attended a post graduate course at the College of Nursing on St Kilda Road in Melbourne. In 1963, she was sent to St Vincent's Hospital in Sydney as the Mother Rectress, managing the hospital as well as the Convent.
Sr Bernice achieved much at St Vincent's Sydney Campus including her interest in and assistance with the building of the Garvan Institute of Medical Research (1963), the rebuilding of St Vincent's Private Hospital (1977), the opening of St Vincent's Clinic (1990), and the Victor Chang Cardiac Research Institute (1994) after Victor Chang's tragic death in 1991.
Sr Bernice was recognised not only within her Congregation and within the St Vincent's Campus, but also on the Queen's Birthday Honours List (1977) when she was awarded an O.B.E. and, when the new Australian Orders were introduced, an AM (1986) and just before her death, she received the award of Officer of the Order of Australia (AC), the highest award given in Australia. All of Bernice's awards were for her service to health.
Sr Bernice retired in 1997 to the West Street Community, Darlinghurst and then later moved to St Joseph's Aged Care Facility, Kensington where she still exerted her caring influence. She died there on 20 June 2008.
Sr Bernice was described as a faithful and gracious member of the Congregation of the Sisters of Charity, a woman of prayer with a generosity of spirit which extended to both the poor and the rich. She was dearly loved by the Sisters, her family and friends, the staff, her colleagues and the many benefactors of the hospitals served by the Sisters of Charity in Launceston, Sydney and Melbourne.
Our hospital honours Sr Bernice for her vision, courage and commitment to healthcare and names the Xavier Building of the St Vincent's Private Hospital in her name.
The Story of Sr Bernice Elphick is provided through the courtesy of the Archives of the Congregation of the Sisters of Charity of Australia and St Vincent's Hospital Sydney.