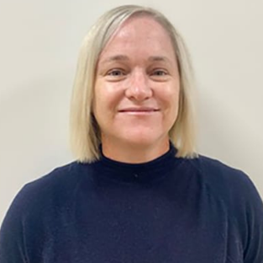 Ms Amy Underwood
MScMed (PainMgt), MCounsPsych, BA(Psych),
Languages: English
Areas of Interest
Chronic pain
Chronic disease management
Women's health
Persistent pelvic pain management
St Vincent's Private Hospital Brisbane, QLD
Link Consulting Rooms
Floor 1
Link Building
St Vincent's Private Hospital Brisbane
411 Main St
KANGAROO POINT QLD 4169
T: 0408 709 705
F: (07) 3112 6187
Biography
Amy Underwood is a counselling psychologist specialising in adult pain management.
Amy Underwood embraces evidence-based and multidisciplinary pain management strategies for all her patients suffering persistent pain. She has a particular interest in pelvic pain management, women's health, and chronic pain.
After completing her undergraduate education at the University of Queensland, Amy chose to pursue a career in psychology. She undertook a Diploma in Professional Psychology at Bond University in 1999, a Masters of Counselling Psychology at the Queensland University of Technology in 2004, then completed a Masters in Science in Medicine (Pain Management) at the University of Sydney in 2010.
Since then, Amy has worked as a nationally-endorsed counselling psychologist both in public and private practice.