Cancer Care at St Vincent's Private Hospital Northside
We offer screening, diagnosis, consultation, treatment and care for major cancers such as breast cancer, bowel cancer, urological and prostate cancer, melanoma, lung cancer and haematological (blood) cancer. Treatment options include both medical and surgical services. We have specially designed facilities to accommodate our cancer services. Our facilities include a comprehensive Breast Health Centre, Medical Oncology Ward, state-of-the-art Day Oncology Unit and a fully equipped surgical theatre.
We offer comprehensive treatment for a range of cancer types
Welcome to excellence in private hospital care
At Northside, our aim is to offer you the best possible care, from pre-admission to discharge. We have over 1,000 dedicated and skilled staff who treat nearly 35,000 people a year, and deliver safe and high quality care to all our patients.
Visiting Hours:
9:00am - 9:00pm seven days a week
Intensive Care:
9:00am -1:00pm & 3:00pm - 7:00pm daily
COVID-19
See current restrictions at top of this page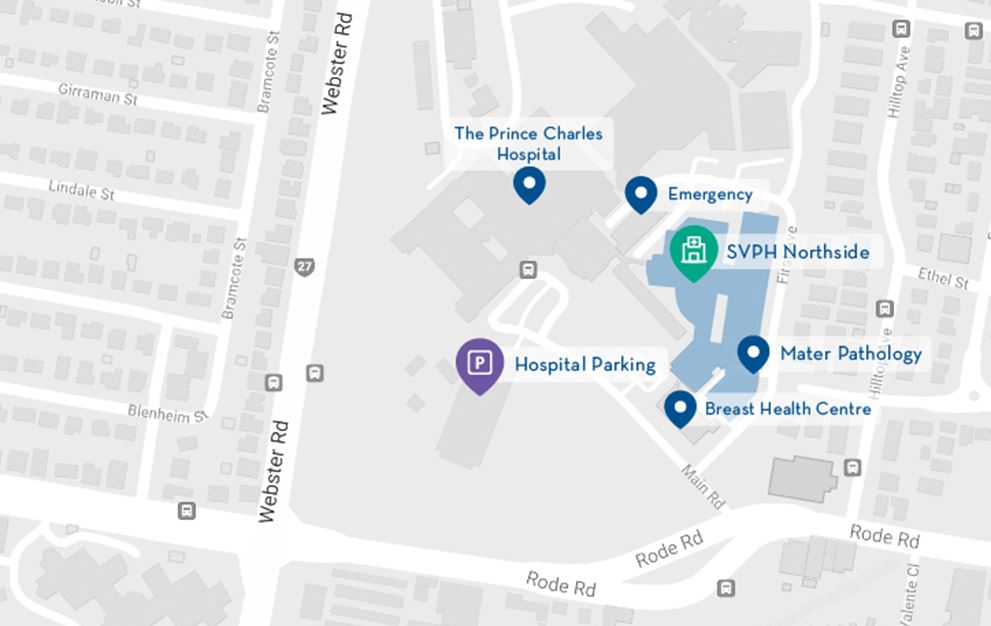 We offer highly specialised services including treatment, care and support to those diagnosed with breast cancer.
Our team includes Breast Care Nurses, Oncology Nurses, Radiologists, Sonographers, Radiographers, Pathologists, Breast Physicians, Breast Surgeons, Medical and Radiation Oncologists, Dietitians and Physiotherapists. Our Breast Care Nurses are dedicated to providing you emotional and physical support throughout your entire breast cancer journey. Please contact us for more information.
Screening & Tests
Breast screening when performed regularly is a proven way to detect early breast cancer. Early detection increases the potential of a successful treatment and recovery. At St Vincent's Northside Breast Health Centre, we specialise in routine breast screening, diagnostic assessment for all diseases of the breast and consultation services. We employ the triple test approach to breast screening to maximise the accuracy of detection. Our approach combines physical breast examination, breast imaging and biopsy (if required).
Diagnosis & Treatment

Breast cancer is a challenging illness. Your treatment plan may involve more than one treatment option, such as surgery, chemotherapy and radiotherapy. Our Breast Physicians and Breast Care Nurses will provide you with every level of support and information you need.

Wellness & Support

We have wellness and support programs specifically designed to support your health and wellbeing both during and after your breast cancer treatment. These programs include one-on-one support and group support.
We offer highly specialised services including treatment, care and support to those diagnosed with bowel cancer (also known as colorectal cancer).
When you receive bowel cancer treatment at St Vincent's Private Hospital Northside, you are cared for by an expert multidisciplinary team of health professionals. Our dedicated cancer team includes Clinical Nurse Consultants, Colorectal Surgeons, Medical Oncologists and Radiation Oncologists. Please contact us for more information.
Management
Our team of Colorectal Surgeons, Clinical Nurse Consultants and other health professionals collaborate and work together to develop and recommend optimal treatment options and plans. Treatment plans may involve more than one treatment option, such as surgery, chemotherapy and radiotherapy. When performing surgical procedures to remove colorectal cancers, our specialist Colorectal Surgeons employ minimally invasive surgical techniques.
Support
We provide ongoing support and care to you and your family both during and after your bowel cancer treatment. Caring nursing staff and Spiritual Care Practitioners provide support to meet your physical, emotional and spiritual needs.
Our team of Specialists collaborate to assess, diagnose, recommend treatment options and achieve the very best surgical and medical outcomes for those with lung cancer.
Lung cancer management is becoming increasingly complex. Symptoms, speed of growth and patterns of local and distant spread all vary. Compounded by complex health issues, these factors pose a unique challenge to clinical teams charged with care. We employ a multidisciplinary approach to ensure the best possible care and treatment of those with lung cancer. Please contact us for more information.
Our Team Comprises Expert Clinicians in:
Respiratory Medicine
Thoracic Surgery
Medical and Radiation Oncology
Pathology
Radiology
Palliative Care
Lung Cancer Nursing
We embrace new technologies designed to enhance procedures, treatment and care, including robotic systems used in robotic assisted surgeries.
Patients who come to us for treatment of urological cancers will benefit from a less invasive surgical technique available to our surgeons. Robotic systems support our Urologists when performing certain surgical procedures, improving surgical vision, access and control. Our Urologists are highly skilled in performing Robotic Assisted Laparoscopic Radical Prostatectomies. A Robotic Assisted Laparoscopic Radical Prostatectomy (RALP) is the surgical removal of the prostate gland with the aid of a robotic surgical system. Please contact us for more information.
Benefits of Robotic Assisted Surgery:
Reduced operation times
Shorter hospital stays
Fewer complications
Less need for pain medicine
Faster recovery times
Minimal scarring
×
Contact Us
Please phone us for more information or use the contact form and one of our team will be in touch within 48 hours.
07 3326 3159