East Melbourne Enrolled Nurse Graduate Program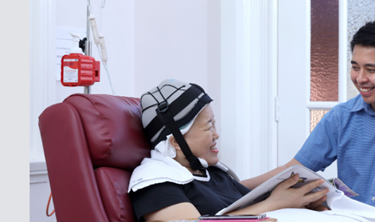 Enrolled Nurse Graduate Program
Enrolled Nurse Graduate Program 2022
Our Program aims to facilitate your transition from student to Enrolled Nurse. We are completely committed to developing your career and ensuring that your graduate year will be an exciting and rewarding experience.
We recognize that as an undergraduate you may have had limited opportunities to explore different clinical areas. Our program is designed to give you these opportunities so that in the future you will have a better understanding of where you would like to focus your nursing career and consolidate your nursing skills.
We are committed to growing a diverse Enrolled Nurse workforce and are therefore offering 2 streams. An Acute Care (clinical ward based) Stream and an Operating Theatre stream that includes PACU/Recovery and Scrub/scout rotations.

Our Program
Our Enrolled Nurse Graduate program has been designed to:
offer you a wide range of rotation options so that you gain comprehensive clinical experience,
enable you to use your evidence based knowledge to achieve quality patient outcomes,
increase your confidence and strengthen your skills base,
develop your ability to work independently and as a team member,
enhance your decision making and critical thinking skills,
allow you to enjoy your nursing career.
Eligibility
The 2022 Enrolled Nurse Graduate Program is offered to nursing graduates:
Who are Registered with APHRA as an Enrolled Nurse (Diploma of Nursing qualification with full IV endorsement)
Availability to commence the program on Monday 3rd Of May 2021
Streams
Acute Care Stream:
Two 6 month rotations that will allow you to enhance decision making skills and critical thinking skills across a broad clinical ward base specialty mix.(Cardiac, Haematology, Oncology, Thoracics, Colorectal, Orthopaedics, Plastics, ENT, Neurosurgery, Urology, Gynaecology and Vascular).
We offer full time and part time positions (minimum of 8 shifts a fortnight) across a variety of shifts including weekends, night duty and public holidays.
Operating Theatre Stream:
Two 6 month rotations that will include a PACU/Recovery or DPU rotation and Scrub/Scout rotation that will allow you to develop perioperative nursing and critical thinking skills across a broad surgical specialty mix (Orthopaedics, Obstetrics, Gynacology, Plastics, ENT, Colorectal, Upper GI, Neurosurgery, Thoracics, Urology and Bariatrics).
We offer full time and part time positions (minimum of 8 shifts a fortnight) across a variety of shifts.
Clinical Support
We are proud to offer one of the highest graduate to nurse educator ratios in the state, so you can be confident that you will have the support you need to achieve your goals.
All
of our education team members are hands on and are willing to assist you.

Our graduates receive extensive clinical support on each rotation, in that you will be allocated a preceptor and there is a clinical coach to provide hands on bedside clinical support and education in a friendly and supportive manner with an education consultant that oversees the entire program.

During your program you will receive a graduated workload and supernumery time to assist you in the transition to enrolled nurse.
We offer extensive education programs, including a minimum of 4 paid study days as well as access to ward based education, twilight seminars and short courses.
Application Details
We welcome applications from all TAFE's throughout Australia. You don't have to have completed a clinical placement with us to apply.
Applications for the 2021 program open on Monday the 1st of February 2021 and close Midday Wednesday 3rd of March 2021.
Applications to the 2 individuals streams will be accepted through our online portal, Workday, and must include the following:
A covering letter - Please state the stream you are applying to
Succinct Curriculum Vitae, outlining your clinical placements and work experience (no more than three pages), with two professional referees, one of whom must be from an adult acute care placement of two weeks or longer
In addition please send the following documents via post:
A certified copy of academic transcript with legend
A certified copy of your acute care placement logbook including formative and summative appraisals and competencies
A passport size photo
Interviews will only be offered once the certified documents have been received via the post.
Certification of Documents
Documents that have been certified by your TAFE must have the following:

The official TAFE stamp identifying the TAFE, and must be signed by a representative from the clinical school.

Documents certified outside the TAFE must follow the AHPRA guidelines for document certification which can be found on the AHPRA website.
Do not provide photocopies of certified documents as this is not in line with AHPRA Guidelines.
Interview Process
We endeavour to respond to your application within in 48hrs of receiving it. All applications will be reviewed by the Enrolled Nurse Program Coordinator.

If you have been selected for an interview you will be contacted via phone. If you have not been selected for an interview you will receive a letter via email. You will have some choice and flexibility when selecting an interview time, the earlier your application is received the more flexibility you will have in selecting a suitable interview time aim to have your application in at least a week prior to the closing date 12 Midday Wednesday 3rd of March 2021.
For more information:
Acute and Operating Theatre Stream:
Julia Hill
Enrolled Nurse Program Coordinator
St Vincent's Private Hospital Melbourne
59 Victoria Pde
Fitzroy Vic 3065
Phone: (03) 9411 7331
Email: julia.hill@svha.org.au
Operating Theatre Stream
Smitha Sebastian
Perioperative Clinical Coach
Phone: (03) 9411 7481
Email: smitha.sebastian@svha.org.au