Registered & Enrolled Nurses Graduate Program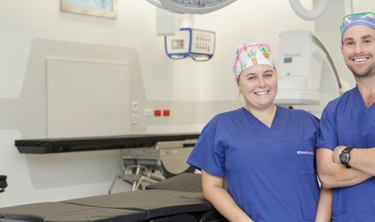 Our Program
Our program educates and supports new graduate nurses to develop confidence, professionalism, and clinical expertise. The program provides experience in a diverse and challenging range of specialty nursing environments and has a strong commitment to excellence and a culture of enquiry, research and best practice.
Our program offers one intake in early February. The 12 month program allows graduates to rotate through two specialty areas, including an option for a 6 month second rotation in Surgical Services, Mental Health or ICU (ICU rotations are applicable for RN applicants only). Graduates can also select a dedicated Surgical Services program. The SVPHS Graduate Nursing Program offers credit for those interested in completing the Clinical Honours (Transition to Practice) year through the University of Tasmania's online course.
Why choose St Vincent's Private Sydney for your Graduate Program?
Recently completed $172 Million hospital redevelopment
Full time and part time program options are available
A well planned, developed and professionally structured program
Comprehensive orientation program
Supernumerary days
Clinical Nurse Educators in each specialty
Preceptors and Clinical Nurse Specialists available for support
Scheduled debriefing sessions
Allocated study days with a focus on clinical development and career development
Professional and friendly workplace
Community atmosphere
Salary packaging
Our Specialities
Graduates choose to come to SVPHS due to our highly renowned reputation and our acute and varied case mix. Graduates at SVPHS may gain experience in the following specialties:
Breast Surgery
Cardiothoracic Surgery
Colorectal Surgery
General Surgery
Gynaecology
Head and Neck Surgery
Neurosurgery
Ophthalm
Orthopaedic Surgery
Otolaryngology
Plastic and Reconstructive Surgery
Renal Transplant
Surgical Oncology
Upper GI Surgery
Urology
Vascular Surgery
Cardiology
Endocrinology
Gastroenterology
Geriatric Medicine
Haematology
Immunology
Medical Oncology
Nephrology
Neurology
Palliative Care
Psychiatry and Psychological Services
Radiation Oncology
Rehabilitation Medicine
Rheumatology
Sports Medicine
Thoracic Medicine
Vascular Medicine
A Hospital of the Future
St Vincent's Private Hospital Sydney has always strived to be progressive, through the way in which it operates and with its approach to patient care. Over the years, we are proud to have paved the way for our leading teams of clinicians to provide the latest surgical approaches and technologies for our local community.
Demand on our hospital's services has grown over the last 100 years, particularly accelerating over recent decades, primarily due to Australia's ageing population. Furthermore, within an evolving and competitive era of private healthcare being able to offer patients these world-class medical and surgical services and high-quality patient care all within a modern first-class clinical setting is what we knew would continue to position our site as a leading hospital of the future.
In late 2021, we completed a $172 Million hospital wide redevelopment project to respond our community's healthcare needs. This includes a rehabilitation service comprising of an exclusively private 12 bed rehabilitation ward with a hydrotherapy pool and specialist gymnasium, two new operating theatres with state-of-the-art technology and equipment and a full renovation of our in- patient wards resulting in wider corridors, larger rooms with a bright, modern and airy feel along with brand new ensuite bathrooms.
St. Vincent's Campus - Surgical Firsts and Innovations
Our urology department, have completed the highest number of robotic procedures in Australia.
The only private facility in Australia to offer shockwave therapy using a lithotripsy machine, providing patients with an alternative non-invasive treatment option for kidney stones.
We were the first hospital in Australia to purchase the Lumenis Holmium laser incorporating Moses technology which enables more energy to reach the target stone or tissue and results in improved efficiency, greater control and more precision, whilst shortening procedure times.
The only hospital in NSW offering blue light cystoscopy for bladder cancer diagnosis and treatment which improves the detection of cancer.
One of only three centres in Australia to be appointed federally to undertake prostate research and is now considered a national and international leader in the initiation and research of a wide range of cancer therapies.
At the Garvan Institute we have the largest and most established prostate tissue, patient data and blood banks in the southern hemisphere, the third largest in the world.
A more recent urology treatment available for prostate cancer is a day surgery treatment called focal nano knife therapy. We were also the first facility to offer this treatment and are now a teacher of this technology.
Our campus has a MRI Guided Ultrasound machine with innovative technology not offered anywhere else in Australia or the Asia Pacific Region. The MRI represents a major breakthrough in the treatment of patients with tremors, Parkinson's disease and dystonia.
The first hospital to employ frameless stereotactic equipment in the routine provision of craniotomy.
The first private hospital in NSW to implement the functional program of deep brain electrodes for Parkinson's disease and the first private hospital in NSW to initiate Duodopa treatment for this disease.
One of the first sites to utilise the Zeiss robotic microscope providing better definition of brain tumour borders with double screens providing 4k and 3D imaging capabilities and precise visualisation through fluorescent lighting features.
St. Vincent's Hospital Sydney performed the first heart transplant in Australia, leading to the establishment of the first Australian heart and lung transplant program.
SVPHS undertakes surgery for heart failure. With the backup of our mechanical assist and transplant program we can undertake operations many hospitals cannot offer. Patients needing complex redo surgery, ventricular remodelling surgery and high-risk operations come to St Vincent's.
We are one of a few private hospitals in NSW using temporary heart and lung assistance for patients. Our Extra Corporeal Membrane Oxygenation program, helps support desperately unwell patients during their illness and aids in bridging them to recovery.
The only private hospital in Australia inserting Left Ventricular assist devices for the treatment of end stage heart failure.
The first minimally invasive surgery for mitral valve, aortic valve and coronary artery bypass grafting was performed here in Australia at St Vincent's more than a decade ago.
We were the first to introduced the Trans Catheter Aortic Valve Implantation (TAVI) program in Sydney.
Our site pioneered robotic coronary surgery.
Closed operating rooms dedicated to orthopaedic surgery only and access to specifically designed orthopaedic spacesuits.
Consistently scored above 95% in self-reported patient satisfaction surveys.
Our infection rate for joint replacements is one of the lowest in Australia at 0.3% compared to accepted rate worldwide of 1%.
We performed the first robotic-assisted persona knee replacement surgery worldwide using the new Zimmer Biomet Knee platform. This new system has been developed to assist surgeons in optimising accuracy and efficiency when planning and performing total knee replacement procedures.
We are a tertiary referral centre for Otolaryngology in Australia with a large caseload of high complexity, and referrals from regional and interstate as well as from overseas.
The department has performed the largest number of pituitary surgeries in NSW.
We are a centre of excellence for cochlear implants with the first implant in Australia being performed here and have the longest running cochlear implant program in Sydney.
We have the first female robotic trained surgeon in Head & neck cancer surgery in Australia.
Application Details
We welcome applications from all universities throughout Australia and New Zealand. You do not have to have completed a clinical placement with us to apply.


2023 Program Important Dates
Intake: February 2023
Applications open: 4th July – 17th July, 2022
Interviews: 1st August – 12th August, 2022
Notification of outcome: On or before Tuesday, 15th November, 2022
Required Documentation
For your application to be eligible for consideration, please submit the following in full via the SEEK website:


Cover Letter INCLUDING your nominated stream
Curriculum Vitae (CV) - including details of two (2) referees
Evidence of Australian Residency and/or visa status including full working rights (if applicable)
Evidence of English Requirement Test results (if a condition of AHPRA)
Any application that does not include all required documentation will not be accepted
You will not be contacted or advised of missing documentation, or requested to provide it at a further date, so please ensure your application is complete prior to submission.
Referees
It is compulsory to include a minimum of two (2) referee details according to the below criteria. At least one (1) Referee must be:


A university clinical supervisor from your 3rd year of study OR your current manager where employed
And either:
A referee from a university clinical supervisor/facilitator during your final year
A preceptor who you have worked alongside within a clinical setting (greater than 3 shifts)
A previous manager who had a direct supervisory role (within the past two years)
You MUST include all of the following: Name & Title, contact phone number and their current email address.


Please ensure that they are aware they have been nominated and may be contacted.
Submitting your application
Applications can only be accepted via the SEEK / Workday website.
Applications emailed directly to HR or L&D will not be considered
Ensure you have the entire required documentation ready at the time of submission as incomplete applications will not be considered
Keep copies of all documents you have submitted as these cannot be returned to you
Keep copies of all emails received acknowledging receipt of your application
After submitting your application
Applicants will not be contacted regarding their application until after the closing date
Once you have submitted all of the required documentation, you will receive an automated email acknowledgement of your application.
Due to the volume of applicants, you will only be notified if you have been successful by being invited for an interview.
Offer of interview
If you are offered an interview, you will be contacted via email with the details of how to make a booking. If you would like to decline an interview, please indicate the same by email, and we can then offer to other candidates on our waiting list.
Interview and Assessment
Please arrive at least 10 minutes prior to your interview time and allow approximately 30-45 minutes for the interview. Interviews will be graded on how well you communicate and conduct yourself throughout, as well as how you answer scenario based questions through demonstrated competency.
What to bring to interview
If you are shortlisted for an interview additional paperwork will be required. Please read this carefully.
Along with additional paperwork you will be required to bring originals and a photocopy for each item below. Failure to bring this mandatory documentation with you at the time of your interview will result in you being unable to progress with your interview.
A current form of photo identification (100 point identification points-passport, driver's license, university identification) Refer to 100 Point Identification Check.
Colour photocopy of your passport – please bring original for sighting.
A NSW Working with Children Check (WWCC) clearance number for paid work. https://www.kidsguardian.nsw.gov.au/working-with-children/working-with-children-check You will be required to enter the number into the online application.
NSW Police Check.
Evidence of current immunisation in accordance with NSW Health Policy.
Offer of employment
The graduate recruitment team will contact you via email. You will be advised of the timeframe to "Accept" or "Decline" the offer in writing (email). If we do not hear from you by the said date, it will be deemed that you have declined your offer with us. Applicants who are considered eligible for employment at St Vincent's Private Hospital, Sydney, but due to limited positions available, will then be offered a position on the eligibility list. Should a successful candidate decline an offer, an offer will then be made to candidates on this eligibility list. Please note - if you are unsuccessful, you will be notified by email.
Acceptance of employment offer
After you accept an offer of employment and have confirmed in correspondence, you will receive an official letter of offer.
The letter of offer will outline the date that the letter must be signed and returned to our Human Resources Department. Only the signed letter is due by this date, all other documentation can be returned three (3) weeks prior to your outlined start date. If the signed letter has not been returned by the due date, it will be assumed that your offer of employment has been declined and your offer will be withdrawn.
Frequently Asked Questions
Contact details (including a non-university email address)
Education details
Qualifications
Professional memberships
All clinical placement experience / work experience
Any casual / part-time / full-time jobs outside of nursing
A minimum of two (2) references with contact details including professional email addresses
Specify which Graduate Stream you are applying for:

Medical / Surgical Ward Stream
Peri-operative Surgical Service's Stream
ICU Stream

Identify areas where you excelled, or are particularly interested in pursuing a career
Promote the skills you possess to fulfil the job requirement
As several people will review your application, please address your cover letter to the Learning & Development Department (e.g. Dear Learning & Development Department).
Working rights Employer Nomination Sponsorship cannot be provided for those employed on the St Vincent's Private Hospital Graduate Nurse Program. To be eligible, overseas students graduating from universities must have full working rights that allow them to work full time for a minimum of 12 months. Those graduates on student visas who would require sponsorship in order to take up a full time position are therefore not eligible to apply.

Providing you have no more than 6 months' work experience as an Enrolled / Registered Nurse since graduation you can still apply.
Yes, to be eligible you must have recently completed or completed within the past 12 months an undergraduate degree in nursing; or are due to complete the same prior to the start date for the graduate program.

Yes, if you graduated within the past 12 months with a Bachelor's degree or Diploma in nursing; and have no more than 6 months' work experience as an Enrolled / Registered Nurse since graduation.

Unfortunately, applications lodged after the closing date will not be accepted.
We are aware that you may require some time to obtain registration prior to starting on the graduate program and the recruitment process is timed to allow registration to be in place prior to the start date.