Patient resources Physiotherapy following Total Hip Joint Replacement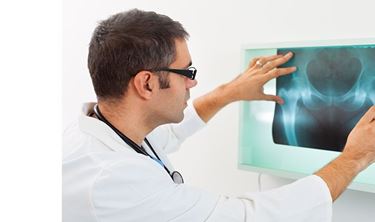 Physiotherapy following Total Hip Joint Replacement
Physiotherapy following Total Hip Joint Replacement
Welcome to St Vincent's Private Hospital Toowoomba
Our Hospital's Orthopaedic Physiotherapy Team will work with you to regain normal function after your operation.
They will provide you with advice and a home exercise program to enable you to continue your rehabilitation at home.
Please take the time to read through the information in this booklet as it is relevant to your recovery and outcomes.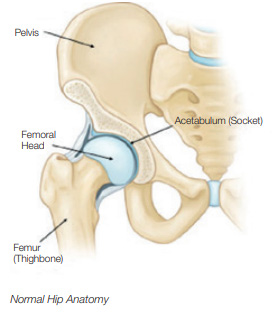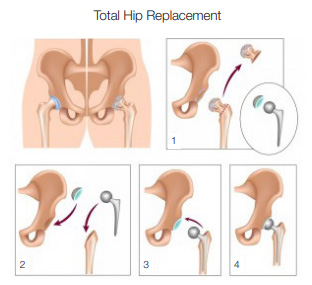 Post-operative care: for your safety and care
Do not get up or walk without assistance from your nurse until you are informed that you are safe to do so
Wear appropriate footwear
Follow hip precautions at all times if prescribed
You are in most danger of dislocating your new hip in the first 12 weeks. However even after this initial period, it is still advisable to continue the precautions set out on the following page of this booklet.
Pain relief


Co-ordinate your pain relief medication (analgesia) with your treating team. It is important to take your pain medication as prescribed. It is normal to have some discomfort and stiffness following surgery. It is important that you are taking pain relief medication regularly so your can move, walk and exercise comfortably.

General post-operative advice: Hip Precautions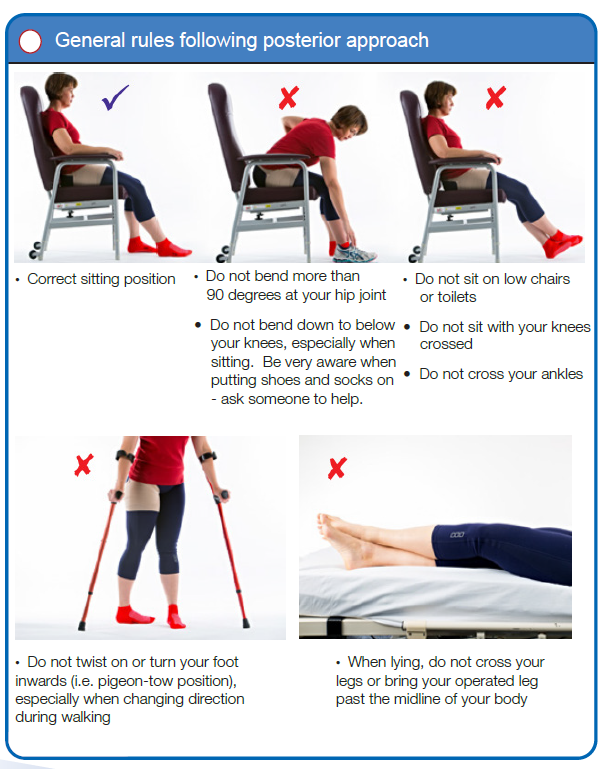 Exercises: immediate post-operative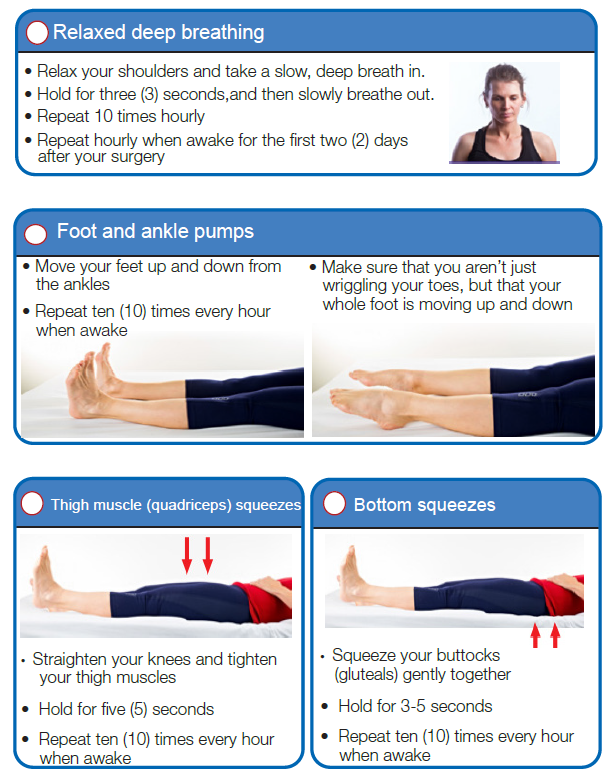 Exercises: bed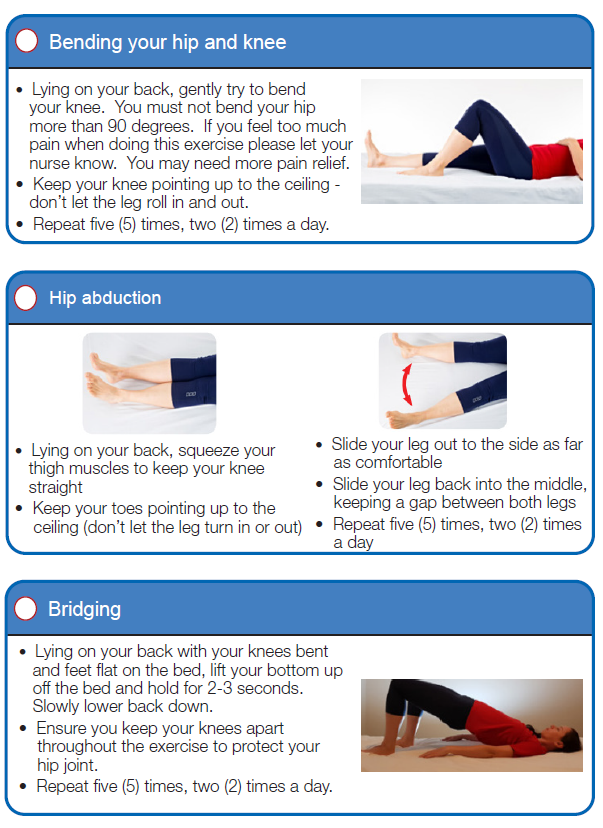 Exercises: standing
These exercises should be performed whilst you hold onto a firm support, such as a kitchen bench. Remember to keep your back straight. Aim to do these exercises two (2) times a day.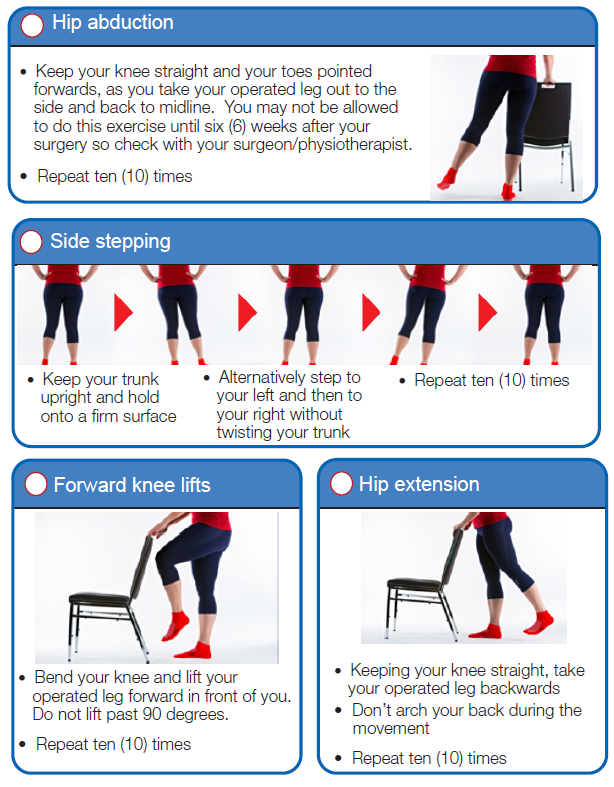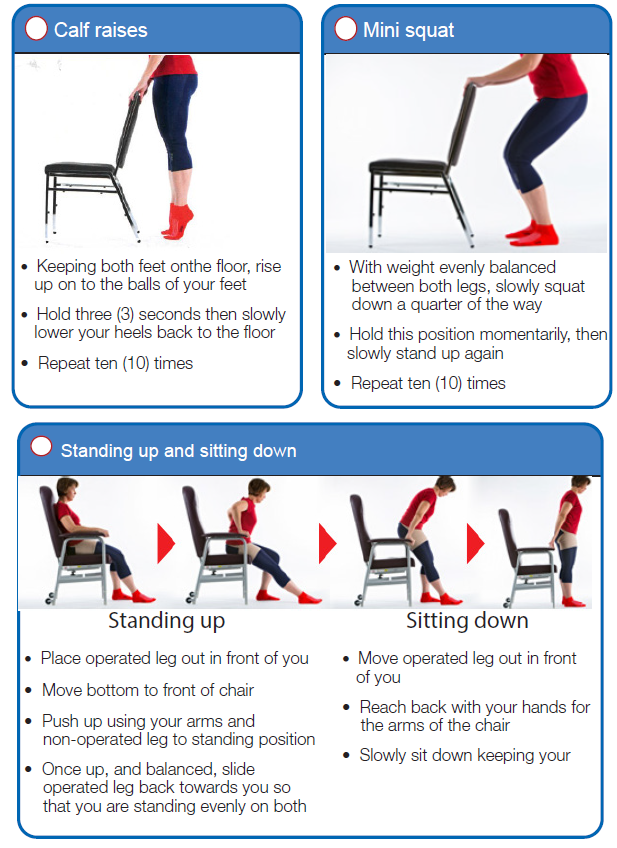 Overview of your hospital stay
Discharge goals
You are ready for discharge when:
• You can get in and out of bed yourself
• You can get on/off a chair by yourself
• You can walk well using a mobility aid or you can get on/off a chair by yourself
• You can go up and down a flight of stairs


Home or rehabilitation
Some people will be able to achieve their discharge goals within 3-5 days and are ready to go home. However, some people have complex medical conditions, live remotely or are living in circumstances where they require a higher level of function to be safely discharged. If this applies to you, a period of inpatient rehabilitation may be recommended.

Discharge Plan
You will be able to discharge immediately home with follow up services within 3-4 days. It is better to be at home rather than in hospital.
Equipment for home
It is your responsibility to arrange equipment required at home prior to discharge.
Your physiotherapist will advise you on which mobility aid is best and can provide brochures with information about equipment. In addition to a mobility aid you may wish to consider the following:
Over toilet frame - provides a raised toilet seat height as well as arm rests to help push up from.
Handy reacher - assists you to reach further and pick objects off the floor.
Shower chair - this ensures safety in the shower.
Orthopaedic chair - having a firm, tall, high backed chair with arms decreases the risk of prosthetic dislocation. Avoid using recliners or low soft armchairs for 3 months after surgery.
Local suppliers - Toowoomba
Aidacare Mobility and Healthcare Equipment
3/342 Taylor Street, Toowoomba
Phone: 07 3086 2990
Opening hours: 8.30am - 5.00pm Mon-Fri
Friendlies Mobility and Independent Living
8 Mylne Street, Toowoomba
Phone: 07 4637 1888
Opening hours: 8.00am - 5.30pm Mon-Fri
8.30am - 12.30pm Sat
Independent Living Specialists
18-22 Prescott Street, Toowoomba
Phone: 07 4639 3977
Opening hours: 8.00am - 4.30pm Mon-Fri
9.00am - 12.00pm Sat

Helpful hints for the home
Sleeping
Ensure your bed is at the correct height to get in and out easily
Remove any trip hazards around the bed, including coverings that may catch on your feet
Turn bedside light on prior to getting out of bed at night
Discuss with your surgeon regarding side sleeping
Sitting
Use a tall chair with arms
Keep knees apart and do not cross your legs or ankles
Use an over the toilet seat until advised

Bathing/showering
If you do not feel confident standing in the shower use a stable shower chair
A long handled toe washer/dryer can assist in washing/drying

Dressing and reaching
A sock aid and long handled shoe horn can assist with shoes and socks
A handy reacher will allow you to pick up objects off the floor. It can also assist in washing, drying and dressing

Kitchen
Store items at waist height
Where appropriate leave commonly used items out on the bench
Slide items along the bench to avoid carrying
Use a kitchen trolley if necessary

Domestic tasks
Avoid reaching into low cupboards, ovens, bottom shelves of the pantry or fridge
Avoid working on low garden beds, be aware of trip hazards outdoors such as hoses and uneven surfaces
Frequently asked questions
Getting in and out of a car?

To get into the car
Passenger seat as far back as possible to give you enough leg room
Passenger seat-rest reclined so that, once sitting, your hip is at less than 90 degrees bend
Reverse into the seat
Keeping your knees at least two fists apart, move the operated leg out in front
Keep your knees apart as you lower yourself to sit on the car seat
Once on the seat, lean backwards (to decrease the bend at your hip) and bring your legs into the car one at a time
To get out of the car
Lean back and swivel as you bring one leg out at a time
Lean forward to stand up, with your operated leg straight out in front and stand up on your good leg
Should I have further physiotherapy once I am home?
Yes, your physiotherapy options will be discussed with you while you are in
hospital.

How much should I walk and exercise at home?
Once you are home it is important that you GRADUALLY increase your walking. It is
recommended that you do regular (3-4 times) short walks instead of 1-2 long walks
each day. Any large increases in your walking level can aggravate the pain and
swelling. If your thigh is swelling or your pain increases you are probably doing too
much. If you are tired and achy then listen to your body and rest. You will naturally
tend to walk more once home so don't be surprised if your pain and swelling
increases once you are home.
You should continue to do the exercises prescribed by your physiotherapist.
Driving
You will need to check with your surgeon in regards to returning to driving. The
passenger seat must be as far back as possible with seat reclined. Move your
operated leg out in front, and slowly sit trying to lean backwards towards the back
rest as you sit.