Celebrating our 1000th da Vinci robotic procedure, 2015 – 2022
By SVPHN staff
St Vincent's Private Hospital Northside's surgical program has passed a significant milestone with the performance of its 1000th robotic surgery case.
Using the da Vinci system – an advanced robot-utilising technology first developed by NASA – urologist, Dr William Bowes, performed a robotic-assisted prostatectomy to reach the milestone. Dr Bowes works alongside a team of professionals that constitute the comprehensive, multi-disciplinary urology service at St Vincent's Northside.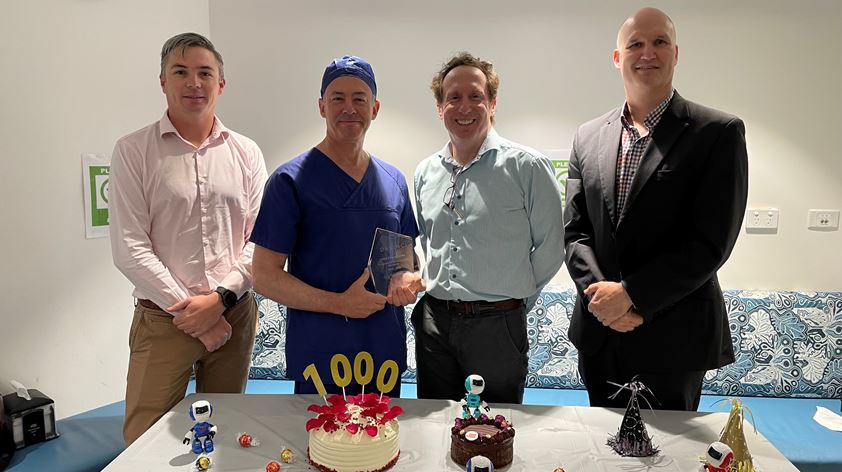 Northside's surgeons using da Vinci technology are able to remove the prostate gland through one or two small incisions. During the procedure, the da Vinci system translates every hand movement the surgeon makes in real time to bend and rotate the instruments with precision.
"In the case of a robotic-assisted prostatectomy, this technology means fewer complications such as pelvic bleeding, urine leaks and urethral strictures, with improved continence outcomes and preservation of erections," said Dr Bowes.
"Using the da Vinci for a partial nephrectomy has enabled safe, fully laparoscopic nephron-sparing surgery with very accurate suturing of the kidney to reduce bleeding risk or post-operative urine leak, while avoiding the morbidity of a large flank incision which is traditional for an open partial nephrectomy."
The introduction of robotic technology at St Vincent's Private Hospital Northside in 2015 has enabled the minimally invasive approach for virtually all complex operations.
Professor Andrew Stevenson, Colorectal Surgeon at St Vincent's Private Hospital Northside, started utilising robot-assisted techniques in 2009, and performed the Southern Hemisphere's first documented robot-assisted male pelvic exenteration. He said the da Vinci system allows for great improvements for patient care and outcomes.
"Over the past decade there have been huge advancements in surgical procedures through technology like the da Vinci system, which enable us to offer minimally invasive procedures in place of what was traditionally open surgery," said Professor Stevenson.
"This brings considerable benefits for patients, including faster procedures and recovery times, and significantly reduced hospital stays."
Dr William Bowes is a urologist with a special interest in robot-assisted surgery, prostate cancer, laparoscopic renal surgery, urinary stone disease, and benign prostatic hyperplasia.
Prof Andrew Stevenson is a colorectal surgeon with a clinical interest in minimally invasive and robotic-assisted colorectal surgeries, colorectal cancer and pelvic floor disorders.