2022 Quality of Care Report
St Vincent's Private Hospital Melbourne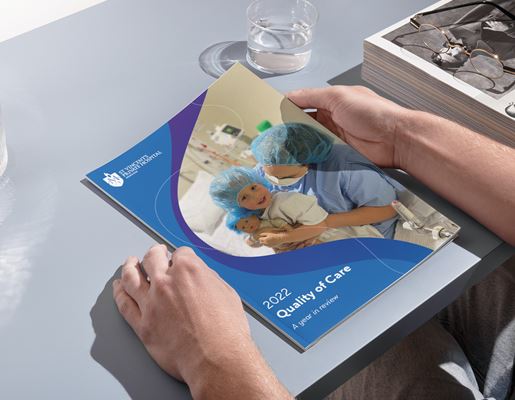 2022 Quality of Care Report
We are pleased to present the 2022 Quality of Care Report from St Vincent's Private Hospital Melbourne. This report provides an overview of the year, including patient and staff experiences, quality performance, and new advancements.
Reflecting on 2022, our team did an amazing job facing a third year of challenges from the pandemic. Adjusting to the "new normal", COVID continued to impact our lives. Hospital processes in particular were challenged by stringent testing regimes as outlined in the "COVID-19: Year of the R.A.T." story on page 4.
Despite the hardships faced, our amazing staff pushed forward and cared for over 55,000 inpatients across our four hospitals. At St Vincent's Private Fitzroy we supported families as 2,213 babies were delivered. Our Volunteers were warmly welcomed back on site by Autumn, visitor restrictions eased, works began on our new 12 storey tower development and at 11.59 p.m. on October 12, the end of the pandemic was officially declared in Victoria.
The 2022 Quality of Care Report outlines some of the many stories that reflect our journey over this time.