Intravascular Lithotripsy - A Cardiology Breakthrough for Heart Attack Sufferers
By Dr Keyvan Karimi
A World First Treatment For Heart Attacks
Cardiologist Dr Keyvan Karimi and his colleagues recently performed the first "intravascular lithotripsy" procedure to treat a severely hardened and calcified artery blockage in a patient at the Mater Hospital Sydney.
Heart attacks are the leading cause of death globally, accounting for one in four deaths in Australia. Severe calcification is present in approximately one-third of blockages that result in a heart attack. Treatment of severely calcified blockages is challenging in patients that have suffered a heart attack since during the attack, clots are formed inside the artery and therefore techniques such as drilling (rotablation) cannot be safely used. Unfortunately there are currently no optimal options available to treat severely calcified blockages in patients with heart attack.
The procedure performed by Dr Karimi's team at the Mater Hospital was a world first in a patient suffering a heart attack caused by a severely calcified blockage.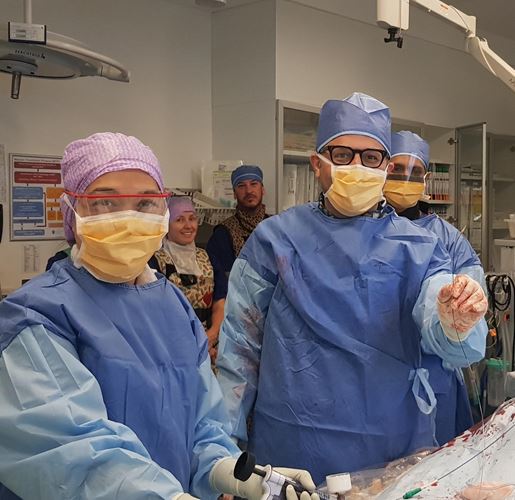 Calcium Deposits - A Silent Killer
The significance of the lithotripsy procedure is due to the challenge presented by blockages that have severe calcium deposits. Calcium deposits cause the arterial wall to become stiffer and bone-like. This process of "calcification" poses significant challenges for unblocking of the arteries by the balloons and stents used in non-calcified blockages, because the hardened artery is not easily stretched open by these devices. So, not only is treatment difficult to administer, but the usual stents that are put in such blockages tend to fail to keep the artery open over time, and can put patients at risk of future heart attacks and requirement of repeat procedures.
Due to these challenges, technologies (such as "rotablation" that mechanically drill the calcium inside the artery) have been used to break the calcium and allow for adequate expansion of the balloons and stents. The technique used by Dr Karimi's team is a new technology that implements "shock wave treatment" that is usually used to break down kidney stones. The lithotripsy technology is miniaturised and integrated inside a small balloon and uses these shock waves to break the calcium in the vessel wall, thereby allowing for the full opening of the blockage with balloons and stents.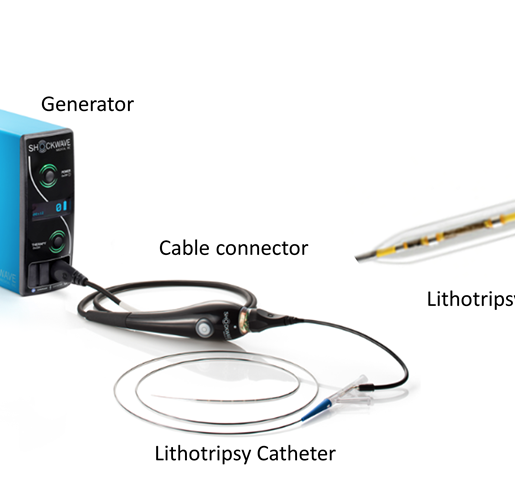 To complete the procedure, the team first opened the artery by a conventional balloon to restore the blood flow. Following this, the lithortripsy technique was used approximately 48 hours later to break the calcium in the arterial wall to fully open the blockage and then implant a stent. The success of the procedure suggests that this device may be safely used by this two-step approach for similar high-risk patients with heart attacks caused by severely calcified blockages in the future.
Dr Keyvan Karimi
Dr. Karimi is an Interventional Cardiologist, who trained in this specialty at the state-of-the-art Columbia University Medical Center in New York. He is a New South Wales Health Research Fellow and a Clinician-Scientist at the Heart Research Institute in Sydney, where he is leading a research team on new treatments for cardiovascular disease.