Cardio-oncology specialist guides cancer survivor to smoother waters
St Vincent's Private Hospital Northside
Seventy-four-year-old St Vincent's Private Hospital Northside patient Olwyn Jacobsen recently made a triumphant return to her beloved dragon boat racing crew – a victory for spirit, resilience and determination coupled with some amazing care from her Brisbane cardio-oncology specialist, Dr Mohsen Habibian.
Olwyn is a breast cancer survivor – twice over! She wasn't sure she'd return to sufficient health and strength to be well enough to resume paddling with her crew – at the Sunshine Coast Dragons Abreast Mavericks in Queensland - on a regular basis after many years of health challenges.
But Olwyn persevered – even after she had another health scare last year when she suddenly and inexplicably, lost consciousness while she was out training on the Maroochy River in her team dragon boat on the Sunshine Coast. She was rushed to hospital by ambulance and was back home the next day, albeit with no great clarity around what caused her episode.
A serendipitous conversation at the start of this year with a friend about her post-cancer treatment led her to the rooms of St Vincent's Private Hospital Northside cardio-oncology services, Dr Mohsen Habibian.
Click to view Olwyn's story
The last decade has seen Olwyn navigate plenty of choppy waters with her health – being first diagnosed with breast cancer in 2004 which resulted in a mastectomy followed by chemotherapy and radiation treatment. Sadly, that was followed by a second diagnosis in 2012 and a second mastectomy.
It was after her first cancer diagnosis that she ventured into the unique world of dragon boat racing, encouraged by a fellow breast cancer survivor.
"I had never paddled before and wasn't really into water sports, but I found that it was great for my health and fitness and a very welcoming environment with many other cancer survivors in the boat," Olwyn said. "I love the camaraderie - meeting new people. Like-minded people who have been through the same journey."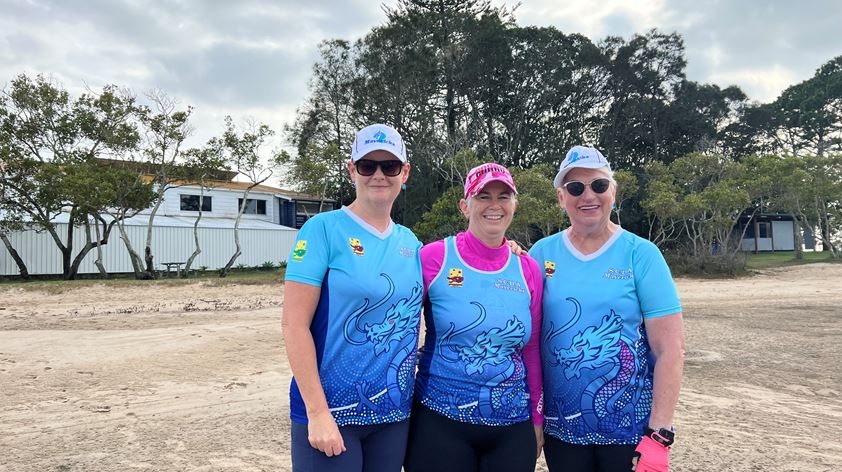 But by the start of 2022, the heart palpitations, shortness of breath and fatigue just while walking and doing domestic activities, became more common and were greatly impacting on her quality of life – and keeping her off the water.
Olwyn says she had seen a cardiologist after her second cancer treatment "but I didn't feel like I was on the right track, so I feel very lucky that a friend recommended me to Dr Habibian."
He organised for her to see an electrophysiologist colleague (a cardiologist who also specialises in heart rhythm) who inserted a special pacemaker to 're-synchronise' her heart. She was also admitted to St Vincent's Private Hospital Northside for a week after Dr Habibian diagnosed that she needed a major adjustment to her cardio-protection medication regime, which was best controlled in a hospital environment, allowing for daily adjustments and close monitoring.
"I didn't even know that there was such a sub-speciality as cardio-oncology but I'm very glad that I found out and that I found Dr Habibian," said Olwyn. "I don't know where I'd be today if it wasn't for Dr Mohsen. It really frightens me - considering what he told me what was wrong with me and the fact my heart was working at only half of its capacity"
Olwyn says eight months after seeing Dr Habibian, she is "feeling the best I have in a long time and I feel like my heart health is improving with every week and that's reflected in different tests that he's done of my heart function.
"It also shows in the fact that I'm back training with the dragon boat Mavericks and we're getting ready for the World Regatta in New Zealand next year," she said.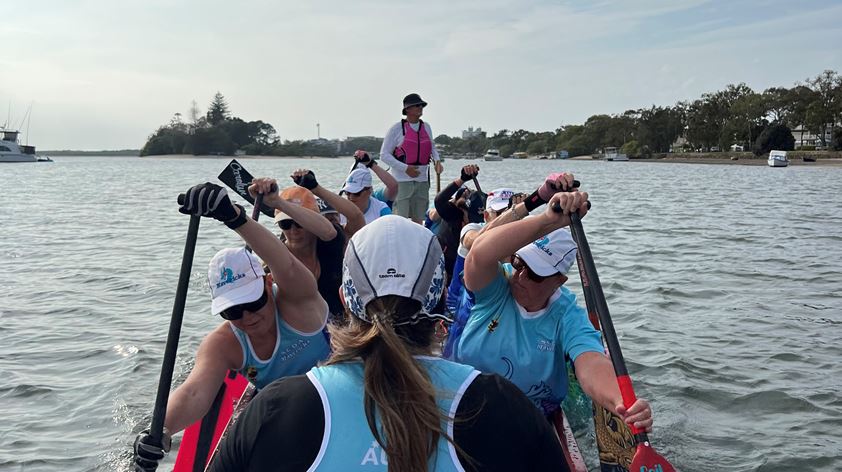 Dr Habibian was formally trained in cardio-oncology at the prestigious Royal Brompton Hospital in London, UK. Dr Habibian is one of only a handful of formally trained cardio-oncology specialists within Australia and is currently the only one in Queensland.
Cardio-oncology is a critical and rapidly evolving sub-specialty of cardiology and due to its highly specialised nature, patients who receive optimal cardio-oncology treatment and care have been shown to have a better overall outcome and prognosis, with less cardiac-related delays or interruptions in cancer treatment.
Dr Habibian says his training, expertise and knowledge provides patients within Queensland and across Australia access to this highly specialised world class care which has been shown to improve patient outcomes.
"Cardio-oncology isn't widely known or very well understood. But you can think of it this way – we are a cardiologist who understands the language and treatment of oncology – but also, we know a lot about the implications and effects of cancer treatment on the heart and its functionality," Dr Habibian said.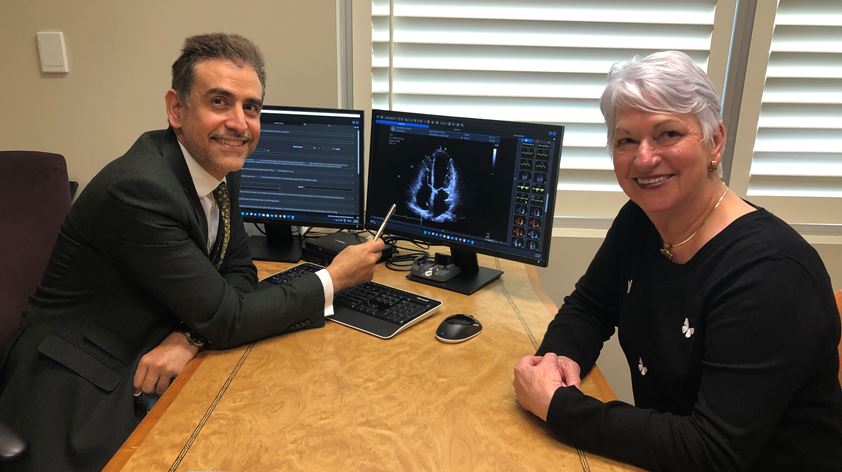 Dr Habibian says when he first saw Olwyn in February this year, "she was very unwell".
"Olwyn was in an advanced stage of heart failure – her heart was working with low function with significant related symptoms" he said. "The prognosis of heart failure per se, can often be worse than the prognosis for many common cancers.
"The reason why she was so short of breath with untreated heart failure was because she had a backlog of blood and her lungs had become congested and engorged. She had trouble walking the short distance from the waiting room to my treatment room without getting short of breath on the first day she presented to our rooms."
Dr Habibian says as a cardio-oncology specialist, he works closely with a patient's treating oncologist to "minimise delays to the cancer treatment, maximise the cancer treatment and reduce the cardiac toxicity or impact on heart health."
"We ideally want to look after cancer patients at three stages – especially those that are high risk due to them requiring aggressive cancer treatment whether that's oncology or radiation therapy," Dr Habibian said.
"Firstly, we like to see the patient before they start their treatment when the patients have a pre-existing heart condition, high blood pressure or diabetes. Secondly when they're undergoing cancer treatment and develop symptoms such as chest pain or shortness of breath or elevation in blood pressure. Thirdly it's important to see them after the formal cancer treatment has finished, just as any survivors of cancer treatment would see their oncologist to review everything," Dr Habibian continued.
"We believe that we can make a significant difference to their health outcomes and the quality of life beyond their cancer treatment. The reality is that despite the knowledge and skill of oncologists, some cancer treatments - including chemotherapy, radiation therapy and immunotherapy - can have significant side effects on heart health.
"It can affect the heart in nine different ways, including high blood pressure, abnormal heart rhythms and heart failure, heart valve dysfunction, 'cardiac toxicity', or the patients can suffer from blood clots in the lungs or legs.
"In more advanced cancer treatment, every time you target the receptors for cancer treatment, you create a chance that you can have a negative impact on the heart, when they share similar receptors.
"So, it's important that patients have the appropriate range of cardiac tests before, during and after cancer treatment so that we can have really good baseline data and insights into their heart functionality and the impact treatment is having on them."
Dr Habibian says there is no greater satisfaction than stories and experiences of patients such as Olwyn and being able to rehabilitate their normal heart function through treatment.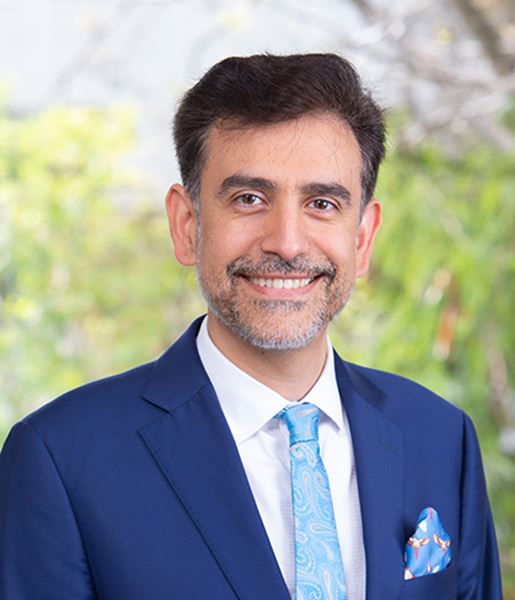 Dr Habibian it seems, was destined to be a health professional and to save lives. He was born and educated in Iran with his father being a very successful producer of fine handwoven Persian rugs. But his father didn't want him to join the business and encouraged him to follow the path to medicine from a young age to help people in need. He vividly remembers his first week of medical school in Iran.
"One of our very first classes was about cardiology and the role of electrocardiograms (ECG) in testing and diagnosing the heart health of a patient and in detecting problems," he says. "I was so fascinated and amazed by the insights that an ECG machine could provide, that on my second day of medical school I went out to a local market and spent almost my entire savings to buy an ECG machine!
"I kept it at home and I wanted to learn as much as I could about the heart and understanding its functionality with firsthand experience. So, I used the ECG and tested all of my family and whenever we had guests over to our house or when someone came to the family home to buy a Persian rug, my father would make it a condition of their visit or the sale that they would have to allow his medical student son to do an ECG on them.
"I would do the test at home and then bring the results in to my next classes and show them to my professor and he would help to explain and interpret them for me. It was an incredible and valuable way to learn – and in fact I still have that old ECG machine!" Dr Habibian said.
After Dr Habibian graduated from medical school and received his full medical credentials, he decided to move to Australia. He says he was so welcomed by Australia and the Brisbane community, especially his local community in Brisbane's west, that he felt "absolutely compelled to devote myself to giving back to the community and my new adopted country."
"It is when I get to use all of my training, knowledge and skills for patients like Olwyn, that I feel I have served my purpose in giving back quality of life to people in Queensland and Australia," says Dr Habibian.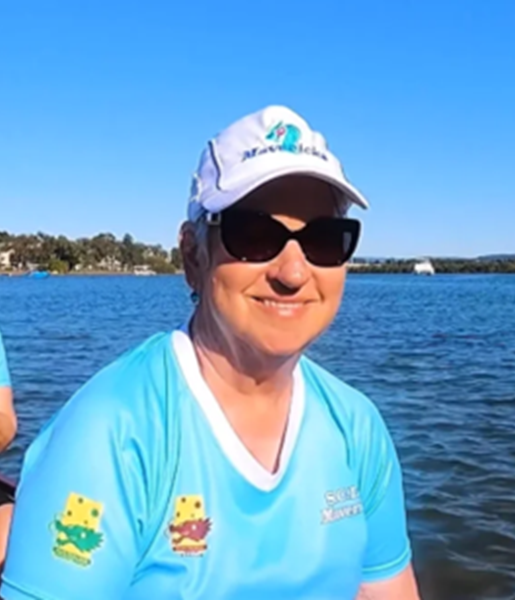 As for Olwyn and her Sunshine Coast Dragons Abreast Mavericks team, their focus is on training hard for the World Regatta next year in New Zealand with their goal to excel against tough international competition.
"Considering there's crews from around the world, we'd be happy to finish in the Top 10. But I'd love to finish in the Top 3," she says joyfully.