Heart health warnings from family after three major cardiac issues in a fortnight
Heart Health Awareness Week is May 1 to 7. One family, who were all recently treated by St Vincent's Private Hospital Northside, has lived to share their story of major heart scares – including bypass surgery for parents for Vera and Leslie Clark. They believe their story provides a 'healthy' lesson for everyone.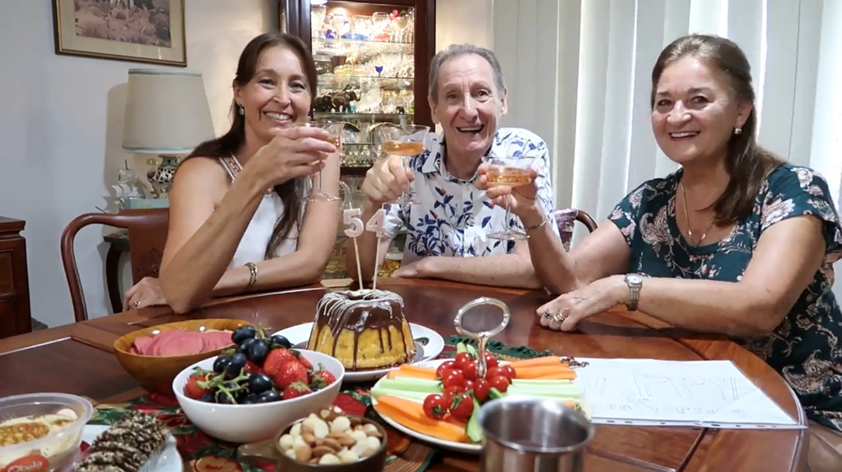 Vera and Leslie Clark last week celebrated their 54th wedding anniversary with their daughter Tanya and family – but all three know that they are incredibly lucky that they are alive to celebrate the special occasion.
Less than two months earlier they were all in St Vincent's Private Hospital Northside, within 30 metres of each other, after major health scares. Leslie and Vera both required bypass surgery and Tanya had a heart attack while she was at the hospital bedside of her mother.
As Tanya Pope lay in her hospital bed at St Vincent's in February, she asked herself the question: 'How did it get to this?'
51-year old Tanya wondered then – and still wonders now, as she continues to rehabilitate (she still experiences pericarditis) how a country with one of the best health care systems in the world can have flaws and gaps in the preventative care model which sees undetected cardiac symptoms sneak up on people. In her case, it was Tanya and her parents all in the space of a fortnight!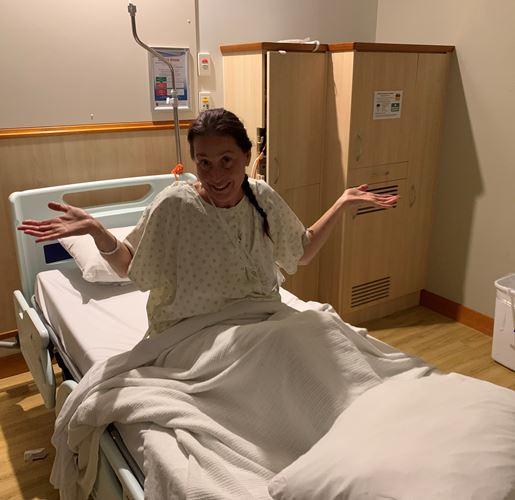 "I didn't think I was a candidate for a heart attack – I'm not obese, I didn't normally have issues with my cholesterol or high blood pressure and I try to take care of myself. I was too young to have major heart health issues," says Tanya of Cleveland on Brisbane's bayside.
"And while my parents – Leslie Clark, 78 and Vera, 76 – are starting to get on age-wise, they're pretty good about seeing their doctor when health issues arise. They had reported various heart-related symptoms to their primary health provider, but for some reason, of which I'm still unsure, they had never been referred for a specific cardiac assessment with a specialist.
"In Dad's case, this is quite unbelievable as for 40 years he has had high cholesterol and high blood pressure and in the last six months had been losing weight and feeling more fatigued."
The nightmare started in late February when it became clear that Tanya's mother, Vera, was having heart issues. Despite being booked for an angiogram in a few days' time, Tanya rushed her mother to the Royal Brisbane and Women's Hospital with worsening chest pain and tightness in her chest. Fortuitously her cardiologist, Dr Stephen Kyranis was on call at RBWH and performed the angiogram early.
This had been her fourth admission to an emergency department in eight years (twice in Victoria where she had been discharged without any further cardiac assessments.)
After Vera's emergency angiogram at RBWH, Dr Kyranis immediately referred her to St Vincent's Northside cardiothoracic surgeon Dr Andrew Clarke, who upon a thorough assessment decided she needed an urgent triple bypass.
While Vera was recovering in St Vincent's, in quick succession, Tanya, then her father Leslie were also admitted and they both came under the care of St Vincent's cardio-oncologist Dr Mohsen Habibian.
For her part, Tanya now recognises that it can be very confusing for women going through menopause as many heart-related symptoms are the same – palpitations, sweating, stress, neck and back muscle aches and fatigue.
After comparing notes with her mother Vera, Tanya realises that the extreme heaviness and tightness they both felt regularly in their chests were not signs of stress – but that something (undiagnosed) was amiss with the heart itself.
"I had often had the feeling in the past that was like when you have swallowed a pill and it gets stuck in your throat. It was only when I was at Mum's bedside in ICU in St Vincent's, and after a stressful episode, that I started to feel more acute symptoms.
"My chest felt like it was in a vice and the pain increased and spread across my chest. A sudden hot wave came over me, I started sweating and I felt nauseous and dizzy.
"A nurse on the ward recognised that it could be more than stress or anxiety and straight away she put me in a wheelchair and took me down to the St Vincent's Emergency Department (Brisbane Northside Emergency) and later I met Dr Habibian. He gave me a thorough examination and concluded that I had been having a heart attack.
"While I was shocked to hear that, I guess if you're going to have a heart attack there's no better place to have it than in a hospital like St Vincent's!
"Thankfully, mine was detected early so I didn't have any permanent damage to the heart. Another factor for women my age is that as your oestrogen levels drop, your bad cholesterol can become elevated which is what happened to me. I had never had high cholesterol or blood pressure issues before."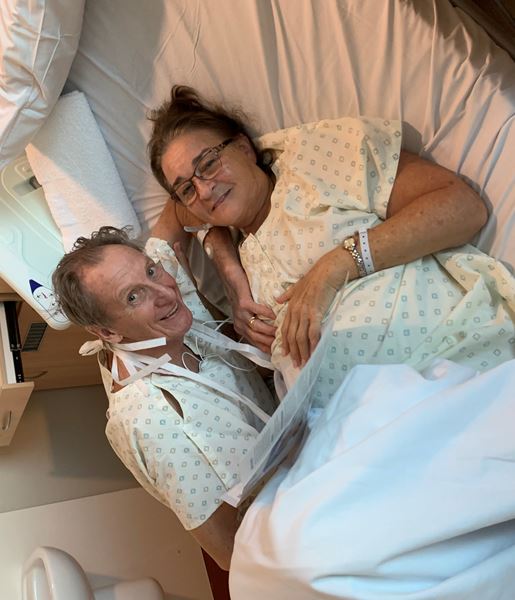 After an angiogram performed by St Vincent's cardiologist Professor Darren Walters, it showed a 10% blockage of one artery which is all it took, combined with the stress of her mother's surgery, to trigger a heart attack.
It was only after Tanya was admitted, some days later she was still being treated in St Vincent's that her father, who by now was playing visitor to both his wife and daughter, started to clutch his chest and he too was admitted.
Professor Walters conducted an angiogram on Leslie Clark and he was found to have four major arteries blocked (between 90 and 95%) and required quadruple bypass surgery - which was done within days by St Vincent's cardiothoracic surgeon Dr Andrew Clarke (no relation).
"They told us that Dad's heart was hanging by a thread and they didn't know how he was still walking around. I think they thought he was a walking miracle," says Tanya.
New research by Monash University has found that one in five adults in Australia can't name any heart attack symptoms and only around half report chest pain as a symptom.
Dr Habibian says the story of Tanya, Leslie and Vera is a timely reminder that heart attacks are still the number one killer in Australia – and says it's a unique situation where he's treating three members of one family at the same time.
"Thankfully with Leslie, Vera and Tanya, we managed to see them, test them and admit and treat them just in time and in the end their clinical outcomes are about as good as we could expect given their respective situations," says Dr Habibian, whilst expressing his gratitude to Dr Kyranis, who initiated the cardiac care for Vera prior to referring her to St Vincent's.
"It's not uncommon for people not to treat their symptoms with sufficient urgency or seriously enough but cardiac symptoms are often misunderstood or misinterpreted, including sometimes by doctors with less experience in cardiology.
"There are three important things for people to know about being alert to cardiac symptoms. Number one, know your family history or take the time to enquire, especially with your parents (if possible) or siblings and understand if they have had symptoms over the years because family history is a risk factor that needs to be investigated.
"Number two, people need to be aware that not all cardiac symptoms are the same for everyone and that there are a wide range of symptoms from chest pain and tightness in the chest and back region, to nonspecific symptoms like shortness of breath, nausea, dizziness and sweating.
"Thirdly, even the chest pains can be different for different people. Not all chest pains are typical and it can even be different between men and women in terms of the type of pain, the intensity, frequency and where you feel it."
Dr Andrew Clarke says he has seen, and performed bypass surgery, on many patients who had downplayed or ignored their symptoms – and says if people are experiencing persistent chest pain – with feeling of a dull ache to sharp pain – there is a chance they had cardiac disease or could be having a heart attack.
"People usually know when they're not feeling right and have a good sense of their own health and if you have symptoms of chest pain or breathing difficulties then you should see your GP," says Dr Clarke.
"If you're concerned or if you don't feel like things are improving, continue to work with your doctors, who may consider referral to a cardiologist who can easily organise appropriate cardiac tests which should provide them and you with the diagnostic knowledge to understand what's really going on.
"If you develop chest pain that doesn't settle in a short time frame you should call an ambulance and get yourself to an Emergency Department where knowledgeable and skilled people will know what to look for and if they suspect there's major underlying issues, they will promptly start investigation, treatment and a referral to a cardiologist.
"Knowing your family history is very important as genetics tends to be a pretty good predictor or indicator of heart disease."
As Tanya and her parents continue to adjust to a new normal, and finally rehabilitate at home, she says she and her family feel as "if the blinds have been lifted" for them in terms of knowledge and awareness of the complexity of symptoms and how heart issues "can be a slow killer". They are all passionate about informing and educating the public about what they have all learned.
"Don't take any heart symptoms for granted and sometimes you need to be more persistent with your primary doctors if the cause or answer isn't obvious, or if there is any sort of history of cardiac issues in the family, and insist on being referred for cardiac assessment, ranging from an ECG stress test, or other investigations," says Tanya.
"There seems to be something missing in the protocol at the primary care level where they should ask a standard series of questions, including about family history of heart disease and if there's any issues, I think you should get a referral to a cardiologist.
"The three of us feel like we are the lucky ones who by circumstance, we were saved and lived to tell our story. We were given the gift of life and we all want to share our experience to prompt others to not be lax about symptoms you might be experiencing or your family history. Knowledge about our own health gives us greater awareness to be proactive to prevent bigger and more serious health issues."