Top-level luxury for new mums at Sydney's Mater Hospital
By MHS staff
The Mater hospital is home to six recently renovated luxury birthing suites which provide the ultimate in comfort and care for new and expecting mums
The new suites rounded off a $9.3 million upgrade of the Mater's maternity unit, which saw the hospital unveil a dedicated caesarean theatre and a Special Care Nursery for premature babies and those requiring specialised support. These facilities position the Mater as one of the most comprehensive maternity services in Australia for expecting mothers and their families.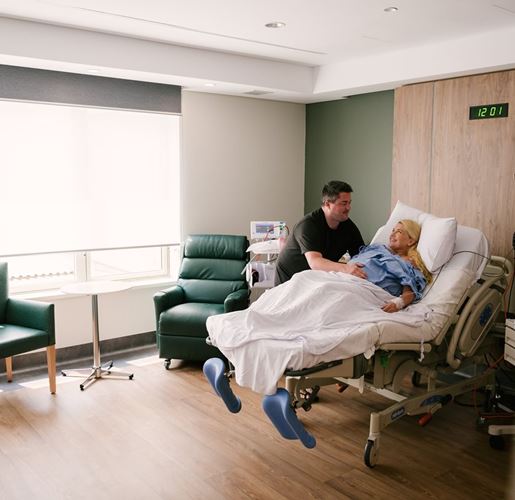 Mater mums can expect contemporary and beautifully designed rooms, unparalleled food and beverage offerings including full room service, high tea, double suites for partners to stay over, wellbeing and educational classes, and more. The facility now combines a touch of luxury with the added support, experience, security and capability of an integrated, state-of-the-art maternity hospital.


The Mater's spacious new birthing suites come complete with sizeable ensuites and incorporate a range of design features that accommodate individual birthing choices. Some of the rooms have large freestanding baths to provide deep water immersion as a natural option for the management of pain during labour, alongside adjustable double shower heads installed for relaxation and the massage of specific areas of pain such as the lower back. Beyond the bathroom, mums can enjoy a relaxed, tranquil and calming environment to prepare for and look after their baby, with ambient and adjustable lighting, aromatherapy oils, and comfy recliner furniture, able to accommodate partners and visiting family.
One of the most exciting offerings in the Mater Hospital experience is the full room service, the first offering of its kind in NSW hospitals. Mums can order their food when it suits them and receive fresh, cooked-to-order meals delivered in under 45 minutes. There is even an option to pre-order a meal and have it delivered at a specified time. This service was designed with breastfeeding mums in mind who require the very best when it comes to healthy and nutritious food.
Furthermore, in line with the Mater's exceptional and compassionate maternity care before, during and after birth, our experienced midwives, many of whom have worked at the Mater for 15 years or more, are on hand 24/7 to guide and support mothers through birth and the first stages of looking after their new baby. The suites are only footsteps away from the hospital's dedicated caesarean theatre and Special Care Nursery, where experienced neonatal nurses and paediatricians are on hand 24/7.
Each birthing suite is fully equipped with a Central Fetal Monitoring System to monitor the health of mothers and their babies during labour and delivery, assessing the baby's heartbeat in real time and ensuring immediate management of any variances should they occur.
Another key offering for new parents is a program of free classes offered to inpatients which provide educational support pre-and post-delivery. The Mater recognises that the mental health of patients is of utmost importance during what can be a challenging time, therefore a comprehensive emotional wellbeing support program was developed for first-time parents, to help them prepare them for labour, birth, and early parenting.
Additional classes cover everything from Calmbirth®, the highly acclaimed and trusted childbirth education program, and breastfeeding, right through to physiotherapy, baby bathing and baby massage, information sessions for grandparents, baby CPR and first aid, and Transition from Hospital to Home – a class for mothers and fathers on how to look after their baby upon their return home.
About Mater maternity
The Mater Hospital is one of Sydney's leading private maternity hospitals, providing exceptional maternity care before, during and after birth. The maternity unit's highly specialised nurses and midwives are renowned for their level of care, and work with a team of leading obstetricians, maternity social workers and lactation experts to guide new and expecting mums and parents in the planning and development of their pregnancy, delivery and care of their baby.