Toowoomba maternity service offers generations of care
By SVPHT staff
At St Vincent's Private Hospital Toowoomba, we understand that having a baby is one of life's most precious moments. Our experienced maternity team is on hand 24/7 to support and guide you every step of the way as you bring your baby into the world.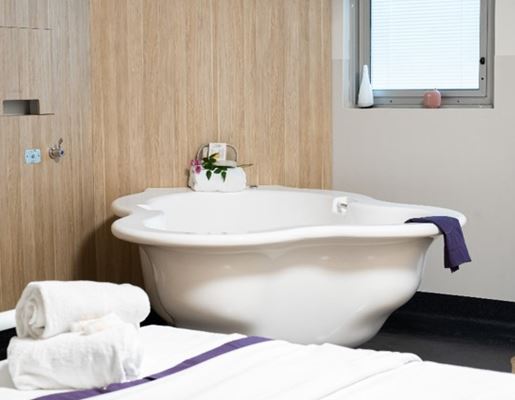 Contemporary birth suite with warm water immersion bath.
A supportive team by your side
Our midwifery team has a wealth of experience and knowledge. They will ensure mothers and their partners enjoy the highest standard care possible throughout their antenatal, birthing and post-natal journey.
The Dorothea Devine Maternity Unit is serviced by seven private obstetricians, four private paediatricians and 24-hour Intensive Care coverage. The unit is supported by a Level 4 Special Care Nursery for newborns requiring special observation, treatment or care.
The facilities in the St Vincent's Toowoomba Dorothea Devine Maternity Unit are modern and comfortable. There are 16 single rooms (with ensuites) and four double rooms (shared).
Within the unit there are two assessment rooms, a three-bed recovery area for post-caesarean care, and four birth suites. One of the birth suites was refurbished in 2020, and includes a warm water immersion bath for women in labour to use for pain relief.
We host antenatal classes onsite so expectant mothers and their partners can become more familiar with our facilities and meet some of our team. We are also pleased to offer a lactation (breastfeeding) advice service to provide additional support if required.