A major medical breakthrough at Sydney Darlinghurst Campus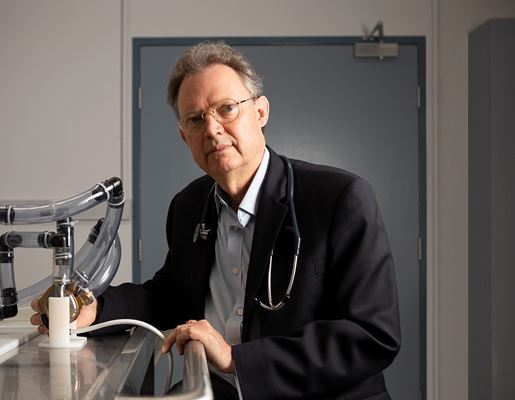 9 February 2022: A major medical breakthrough is being trialled by St Vincent's Cardiologists on the Sydney Darlinghurst Campus
It's hoped a fully functional artificial heart, developed over the past 20 years, will be trialled at St Vincent's Hospital within the next 12 months, led by Victor Chang Cardiac Research Institute's Professor Chris Hayward.
As a key provider of leading cardiac services offered at the St Vincent's Darlinghurst campus, we are thrilled that this collaborative research into innovative transplant technology could transform the lives of heart transplant patients.
Professor Hayward, who is also a cardiologist at St Vincent's, is currently working with a team preparing the device for clinical trials, using a mock circulatory loop and 3D models.
A surgical team has already inserted the artificial heart into a number of heart transplant patients to briefly check it for its functionality - before being removed and replaced by the human heart they were due to receive.
This pivotal preparatory work has been made possible by funding from the Federal Government which recently announced the establishment of the Australian Stroke and Heart Research Accelerator.
Human trials are expected to start at both St Vincent's and The Alfred Hospital in Melbourne within a year. Patients who would normally receive a left ventricular assist device or LVAD will be given the artificial heart – as a bridging gap before receiving a heart transplant.
They will be closely monitored for up to six months – to truly test out how it works in real life.
"This really is the holy grail of transplant medicine, and we're happy to be involved at the pointy end because it hasn't happened overnight, there's been a lot of work to get to this point," Professor Hayward said.
The aim is to develop it as a truly long-term solution replacing the need for heart transplants in the future which would be a game-changer.
At St Vincent's we are always looking at ways to improve prevention, diagnosis and treatment for our patients. It is through research such as this, that our cardiac doctors continue their commitment to meet the unique needs of our patients.
Made possible through the incredible support of donors to the St Vincent's Curran Foundation's Heart Lung Innovation Fund, it has placed us at the forefront of heart and lung technology.
To read more about this medical breakthrough click here
To read more about our cardiac services at St Vincent's Private Hospital Sydney click here.