Fitzroy Redevelopment
St Vincent's Private Hospital
St Vincent's Health Australia has commenced construction of its $180m transformation of St Vincent's Private Hospital Fitzroy.
The state-of-the-art development involves the construction of a new 12-storey hospital, due for completion in mid-2024, followed by refurbishment of the existing adjacent 10-storey building.
Highlights of the design include:
New state-of-the-art operating theatres, all equipped to deliver the latest techniques in robotic and image-guided surgery;
a new Intensive Care Unit;
new chemotherapy/day infusion centre;
new birthing suites and Special Care Nursery;
a new radiology service, which will support single-visit diagnosis, assessment and treatment; and
new inpatient bedrooms with private ensuites
The new building is designed to increase opportunities for sharing research and clinical expertise with both St Vincent's Hospital Melbourne and the soon-to-be-built Aikenhead Centre for Medical Discovery (ACMD) – all located on the same Fitzroy campus – allowing for more integrated treatment and care.
Greater integration with the broader St Vincent's Melbourne campus will mean St Vincent's Private patients will be able to gain immediate advantage from the ACMD's cutting-edge research, leading to a leap forward in patient care and experience.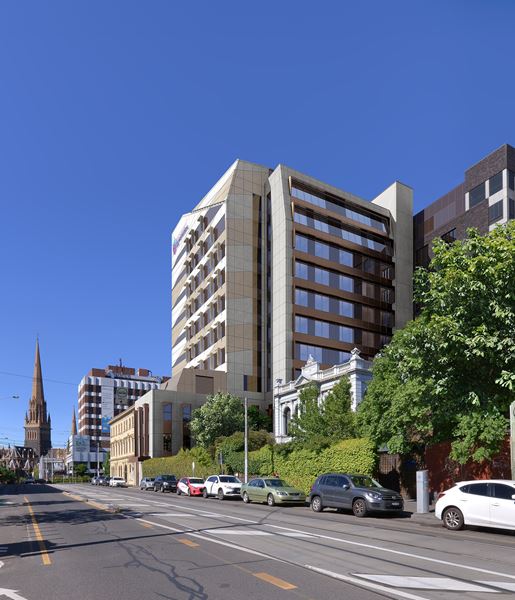 "The redevelopment of St Vincent's Private Hospital Fitzroy is about taking a clinically-led, campus-wide approach to healthcare. By better integrating our care across the St Vincent's Melbourne campus, we can deliver even better outcomes for our patients," said St Vincent's Private Hospital Melbourne's CEO, Janine Loader.
The patient experience will be vastly enhanced through the cohesive, patient-centric care pathways that will be enabled via the new infrastructure and implementation of innovative new models of care.
This redevelopment will enable St Vincent's to build on its strong culture of excellence and compassion in healthcare by providing patients with contemporary amenities designed with the user experience in mind.

The proposed redevelopment includes heritage restoration works to Edensor House, the façade of East Hill House and East Hill Hotel.
The redesigned Saint Mary of the Cross MacKillop Garden adjacent to Edensor House will be the centre of the Hospital campus, providing patients, visitors and staff with a relaxing environment in the reflective garden.