Tiny pacemaker implant at St Vincent's Private
A first for Toowoomba
A heart pacemaker the size of a multivitamin tablet has saved the life of Toowoomba Carnival of Flowers identity, Murray Timbs.
Champion gardener Mr Timbs, 84, underwent the innovative surgery with cardiologist Dr Caleb Mengel at St Vincent's Private Hospital Toowoomba on 14 September 2020 and he was discharged just a day later.
In a Garden City first, Dr Mengel inserted a Micra leadless pacemaker, the world's smallest heart-pacing device.
Dr Mengel explained that unlike most pacemakers that are placed in a patient's chest with leads running to the heart, the tiny pacemaker was implanted directly into Mr Timbs' heart via a vein in his leg.
"This is much less invasive as there is no chest incision, scar, or bump that results from conventional pacemakers," Dr Mengel said.
"The device is completely self-contained within the heart which eliminates potential medical complications arising from a chest incision and from wires running from a conventional pacemaker into the heart.
"The Micra is 93 per cent smaller than conventional pacemakers and weighs less than a coin."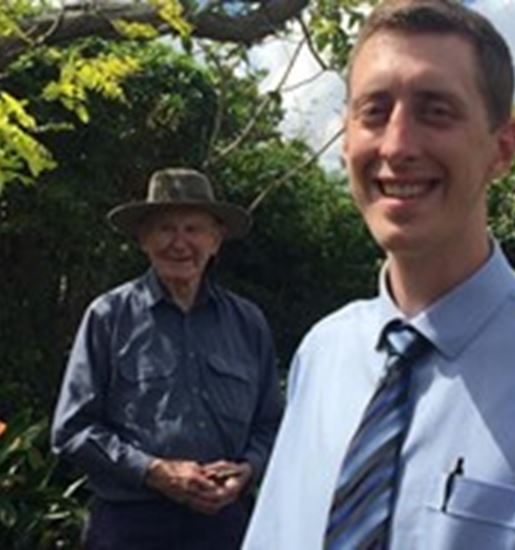 Dr Mengel said Mr Timbs' medical history including slow and irregular heart rate, fainting episodes, and having one rather than multiple heart chambers needing stimulation meant he was a suitable candidate to receive the revolutionary technology.
Mr Timbs said he was grateful to have access to the advanced pacemaker through St Vincent's Hospital.
"I collapsed on the tennis court, an ambulance was called and I was brought to St Vincent's," Mr Timbs said.
"Having this pacemaker will mean I won't have dizzy spells, collapse and so on. It will be a new norm that makes me confident to go into the future."
That future includes tennis twice a week, social dancing and getting back into his beloved garden.
Mr Timbs and his late wife Margaret were Carnival of Flowers champion gardeners in the early 1980s.
Mr Timbs retired as deputy principal of Harristown State School and later became the gardener at The Glennie School for 23 years.
"I'll let you in on a secret," Mr Timbs said. "I am hoping to get to 112 years old.
"I feel very lucky to get this pacemaker."