Virtual Mothers Group Blooms from St Vincent's Private Virtual Parenting Education Groups
By SVPHF staff
It's been wonderful to watch our community of mums support and care for one another over the past nine months.
When COVID-19 struck early in 2020, Michelle Cambrey, our dedicated Perinatal Emotional Wellbeing Midwife, was forced to run Parenting Education classes online. As mothers groups across the city were no longer running, many of the new mums participating in these sessions made an effort to stay in contact; supporting each other day-today via WhatsApp groups.
With restrictions easing across the state, these groups have finally been able to meet up in person. Most recently, one group (pictured) met in a park close to St Vincent's Private in Fitzroy. Michelle was also able to join.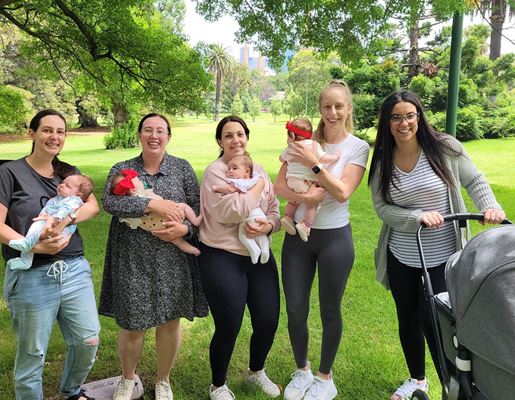 "These women have all been pregnant and given birth during the COVID-19 Pandemic. Seeing them continue to support each after their session has been remarkable. Two of the Mums live near each other and are catching up regularly for walks and are going to join a gym together. They are so appreciative of the sessions and how it helped them in the early phase of adjusting to being new Mums. I feel so fortunate to have been able to meet and work with such amazing women."
2020 was a year of unimaginable ups and downs, and catch-ups like these have been a long time coming for our new mums. These resilient women will continue to share a bond that only those pregnant during the COVID-10 Pandemic would understand.
We are proud to offer these sessions at St V's and are beyond excited to see these support networks bloom as a result. If you would like to know more about Michelle Cambrey's role or our Parenting Education sessions, please call our dedicated maternity number on (03) 9411 7634.