Werribee COVID-19 Vaccination Hub
Article published by StarWeekly
As we continue to see an increase in cases of the Delta variant as well as more exposure sites across the state, it is becoming more important to arm ourselves against coronavirus.
Last week, St Vincent's Private Hospital Werribee (SVPHW) teamed up with Werribee Mercy Hospital to relocate the Western Health Vaccination Hub to the SVPHW site and do their bit to fight the virus, save lives and return to normality.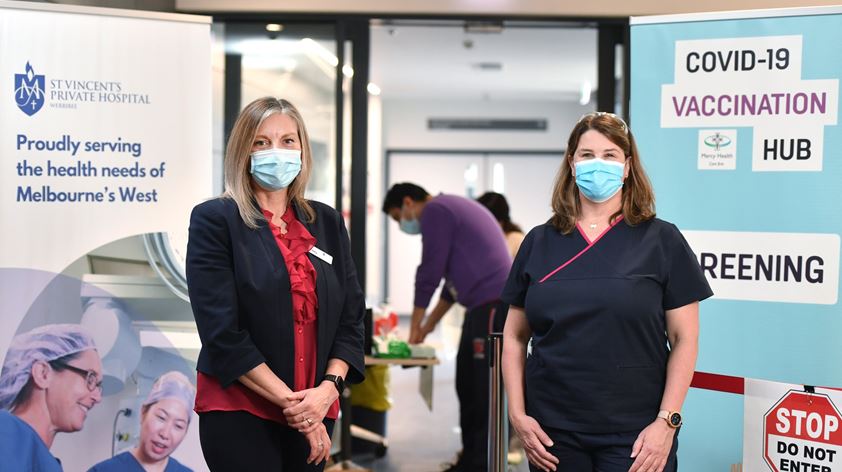 "We are happy to be working together with the St Vincent's Private Hospital Werribee team to deliver more vaccinations during this crucial time in the pandemic," says Angela Cook, Nurse Unit Manager at Werribee Mercy Hospital.
In the first week, 717 Vaccines were administered to the community, which is planned to expand to over2000 vaccines per week in the weeks to follow - making a significant contribution to the state's vaccination roadmap. At the time of publication, the Werribee Mercy and St Vincent's Private Werribee Vaccination Hub has provided over 5977 vaccinations to date.
"We are delighted that the relocation of the vaccination hub to St Vincent's Private Hospital Werribee has enabled the service expansion providing more vaccines to more people in our local community," explains SVPHW General Manager and Director of Clinical Services, Libby Fifis.
"It's been a privilege to work together with the Werribee Mercy Hospital team to provide this critical healthcare service to the communities in the west. It's also a great opportunity for people to see the wonderful hospital facilities SVPHW has on offer."
To book an appointment at the Werribee Vaccination Hub, please call the Victoria Coronavirus Hotline on 1800 675 398 or visit covid-19vaccination.wh.org.au/vaccination-booking/werribee