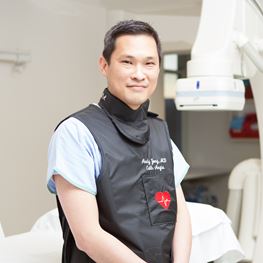 A/Prof Andy Yong
MBBS, PhD, FRACP,FCSANZ, FACC
Visit specialist website
Languages: Cantonese, English, Indonesian, Malay, Mandarin
Areas of Interest
Coronary artery disease/ischaemic heart disease
Structural heart disease
Preventative cardiology
Mater Hospital, North Sydney, NSW
United Cardiology Suite 20
1 Lakeside Road
Eastwood NSW 2122
T: (02) 9804 6218
F: (02) 9804 6216
Biography
Associate Professor Yong is a general and interventional cardiologist who graduated with 1st class honours from the University of Sydney.
Having completed general cardiology training at Concord Hospital in 2008, Andy trained as a research and interventional cardiology fellow at Royal Prince Alfred and Concord Hospitals, and was awarded a PhD degree in 2010. Dr Yong subsequently completed a 2 year postdoctoral and clinical interventional cardiology fellowship at Stanford University Medical Centre.
He has published over 100 research papers, book chapters and abstracts. Dr Yong has served as an invited faculty speaker at various international and national meetings including the American College of Cardiology, Transcatheter Cardiovascular Therapeutics, Cardiac Society of Australia and New Zealand, and Australia and New Zealand Endovascular Therapies conferences.
He currently serves as a member of the Concord Hospital Ethics Scientific Subcommittee. His specific clinical interests include interventional cardiology, coronary heart disease, valvular and structural heart disease, and preventive cardiology.