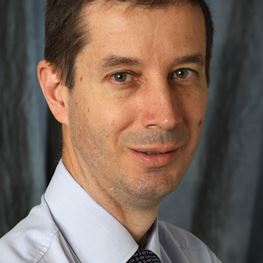 A/Prof Anthony Grabs
MBBS, FRACS (Gen & Vasc)
Languages: English
Areas of Interest
Venous disease (open and endovascular)
Carotid disease
Aneurysm disease (open and endovascular)
Peripheral vascular disease
Vascular access
St Vincent's Private Hospital Sydney, NSW
Suite 602
St Vincent's Clinic
438 Victoria Street
Darlinghurst NSW 2010
T: (02) 8382 6640
F: (02) 8382 6647
Biography
Associate Professor Anthony Grabs is an experienced vascular surgeon who offers comprehensive treatment to all his patients. His outpatient practice in St Vincent's clinic includes public and private patients with vascular disease.
Dr Grabs undertakes both endovascular therapy and open surgery in both the public and private hospitals on the campus. He has a particular interest in sports medicine and surgical conditions affecting military personnel.
Anthony started at St Vincent's in the public and private hospitals in 1998, practising in general and vascular surgery and as a lecturer in surgery with the University of NSW. He spent 10 years with UNSW before becoming the Surgical Stream Director for St Vincent's Public Hospital, and the Clinical Executive Director. He has been the Director of Trauma since 2002. He is a Lieutenant Colonel in the Army Reserve.
Affiliations & Memberships