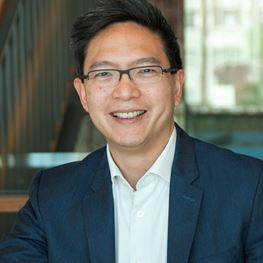 Areas of Interest
Breast cancer
Endocrine related cancer
Cancer research
St Vincent's Private Hospital Sydney, NSW
Sydney Oncology
Suite 806
St Vincent's Clinic
438 Victoria Street
Darlinghurst NSW 2010
T: (02) 8382 6822
F: (02) 8382 6839
Double Bay Breast Clinic
Suite 3.03A
New South Head Road
Double Bay NSW 2028
T: (02) 9362 8378
F: (02) 9362 3069
The Kinghorn Cancer Centre
370 Victoria Street
Darlinghurst NSW 2010
T: (02) 9355 5600
F: (02) 9355 5602
Biography
Associate Professor Elgene Lim is a medical oncologist and scientist with a focus on breast cancer research and treatment
A/Prof Lim completed his training and doctoral research in Melbourne. His PhD research had a major impact on the identification of the culprit cells in carriers of the BRCA1 mutant gene, a hereditary breast cancer syndrome. He furthered his training at the Dana-Farber Cancer Institute and Harvard Medical School through fellowships from Fulbright, the National Health and Medical Research Council (NHMRC) and Royal Australasian College of Physicians.
He oversees breast oncology services and clinical trials at the Kinghorn Cancer Centre, and heads the Connie Johnson Breast Cancer Research Group at the Garvan Institute. His research is funded through Cancer Australia, NHMRC, Cancer Council NSW, and the National Breast Cancer, Love Your Sister, Movember and Garvan foundations.
Elgene is the inaugural National Breast Council Foundation Endowed Chair and Associate Professor of Medicine at UNSW.
Affiliations & Memberships