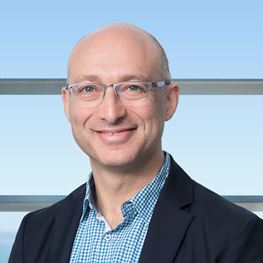 A/Prof Eugene Kotlyar
MBBS, MD, MPVD, FRACP, FCSANZ, FPHSANZ
Languages: English, Russian
Areas of Interest
Heart failure
Heart transplantation
Pulmonary hypertension
St Vincent's Private Hospital Sydney, NSW
Suite 710
St Vincent's Clinic
438 Victoria Street
Darlinghurst NSW 2010
T: (02) 8382 6150
F: (02) 8382 6153
Biography
Dr Eugene Kotlyar is a senior staff cardiologist in heart failure, cardiac transplantation and pulmonary hypertension at St Vincent's, and a Conjoint Associate Professor at the University of New South Wales and Notre Dame.
Eugene is a general cardiologist in private practice at St Vincent's Clinic and St Vincent's Private Hospital. In addition, board member and founding member of the Pulmonary Hypertension Society of Australia and New Zealand.
Eugene completed his undergraduate degree in medicine at the University of Sydney after undergoing basic physician training at the Royal Prince Alfred Hospital. He subsequently undertook advanced training in cardiology in St Vincent's Hospital, and then enrolled in a combined clinical and research cardiomyopathy fellowship in Boston University.
He's had over 50 peer-reviewed publications published in leading scientific, cardiac and respiratory journals.
Affiliations & Memberships