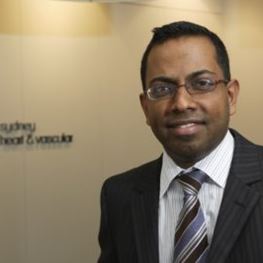 Areas of Interest
Interventional cardiology
Arrhythmias
Laboratory investigations
Chest pain
Mater Hospital, North Sydney, NSW
St Vincent's Private Hospital Sydney, NSW
Sydney Heart and Vascular
Suite 1802, Level 18
Tower 1 Westfield
520 Oxford Street
Bondi Junction NSW 2022
T: (02) 9387 5500
F: (02) 9387 5566
The Cardiac Centre NSW
Suite 2
Illawarra Medical Specialists
Picadilly Centre
341–349 Crown Street
Wollongong NSW 2500
T: (02) 4227 1840
F: (02) 4228 4477
Biography
A/Prof Krishna Kathir has a clinical interest in treating people with chest pain and arrhythmias. He also undertakes interventional cardiac angiography and performs non-invasive cardiac laboratory investigations.
Krishna is a cardiologist and cardiovascular interventionalist at St Vincent's Private and Public Hospitals. He is currently staff specialist at St Vincent's Public Hospital.
Krishna completed his basic physician and advanced cardiology training at various facilities including the Royal Prince Alfred Hospital in Sydney and the Lenox Hill Hospital in New York.