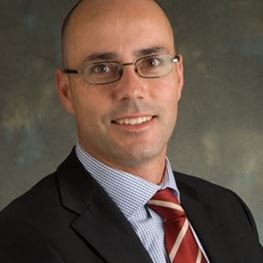 Specialities
Cancer
Ear Nose & Throat (Otolaryngology)
Head & Neck
Areas of Interest
Thyroid & parathyroid surgery
ENT, Head & Neck cancers
Rhinology & Sleep
Mater Hospital, North Sydney, NSW
Suite 211
300 Pacific Highway
Crows Nest NSW 2065
T: (02) 8355 7940
F: (02) 8078 4408
Suite 7
155 Missenden Rd
Newtown NSW 2042
Biography
Associate Professor Michael Elliott is a highly experienced ENT, head and neck specialist with particular interest in the thyroid gland and associated conditions.
Associate Professor Michael Elliott is primarily interested in benign and malignant conditions in the thyroid and parathyroid glands. He also treats other benign and malignant conditions of the head and neck including the salivary glands.
Graduating from the University of Adelaide, Michael was awarded a Bachelors of Medicine and Surgery (MBBS) in 1996. He completed his internship in Whangarei Hospital in New Zealand before returning to Australia to commence basic surgical training in Sydney. After this, Michael took leave from clinical services to complete a Masters of Philosophy in the field of medical science from Queensland University. He then commenced advanced training in otolaryngology, head and neck surgery back in Sydney which he completed in early 2008 and was awarded his FRACS.
After a 1 year head and neck fellowship at Guy's Hospital (the 3rd largest head and neck unit in the UK), Michael was appointed as a VMO at Royal Prince Alfred Hospital where he works as part of the ENT and head and neck departments, and Lifehouse Chris O'Brien Cancer Centre.
He has been appointed a clinical associate professor with the University of Sydney and is involved in translational research activities between the University of Sydney, University of Technology, RPAH and Lifehouse Chris O'Brien Cancer Centre. He is also involved in supervising and training Advanced ENT registrars, junior medical staff and medical students.
Michael chairs the Thyroid Multidisciplinary Meeting and is actively involved in a number of clinical and translational thyroid research projects.