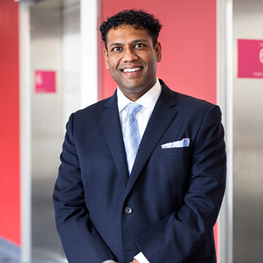 A/Prof Vinay Rane
MBBS BMedSci(Hons) LLB LLM PDLP, FRANZCOG FFCFM(RCPA), FACLM MFFLM (RCP, UK) MHSM
Visit specialist website
Languages: English, Hindi
Specialities
Maternity (Obstetrics)
Gynaecology
Areas of Interest
Complex and high-risk pregnancy
Pelvic pain and endometriosis
Abnormal bleeding
Pelvic organ prolapse
Cervical dysplasia
St Vincent's Private Hospital Fitzroy, VIC
St Vincent's Private Hospital Werribee, VIC
Melbourne Mothers
6/230 Blackshaws Road
Altona North VIC 3025
T: (03) 9329 0626
F: (03) 9348 9989
Melbourne Mothers
Parkville Health Precinct
325/55 Flemington Road
North Melbourne 3051
Biography
Associate Professor Vinay Rane is a progressive, highly experienced and accomplished Obstetrician and Gynaecologist in Melbourne.
He studied Medicine and Law at the same time and has been fortunate enough to have gained experience in some of the best known academic and clinical centres across the globe. His experience in England and Scotland inspired Vinay to pursue a career in Gynaecology and Obstetrics. Through fellowships in the United States, he gained additional experience in advanced laparoscopic surgery.
In Obstetrics, he is known to be holistic, and respectful of your wishes as an expecting mother when it comes to making choices about labour and delivery. In a TEDx talk, Vinay referred to his job as the best job in the world, helping women from early on in life all the way to menopause.

Vinay developed a particular interest in helping women who have their first baby after the age of 35 or in their forties. Quite often, women who pursue sports careers and business careers (athletes and working women), have appreciated Vinay's approach to their particular women's health needs. He also has expertise in assisting women who have suffered a previous traumatic birth and are now seeking a better experience.
Additionally, Vinay feels that the mode of delivery should be a choice of the woman. Women should not be made to feel guilty for opting for delivery via caesarean section. Vinay particularly enjoys working with his team in theatre to ensure that deliveries via caesarean section are as natural and as much fun as they can be. After all, the birth of a long-awaited new arrival should be a joyous occasion and not one marked by anxiety. We use various techniques including playing music that is familiar to our patients and adjusting the lighting and ensuring that there are several familiar faces in the room to guarantee a memorable occasion.

As a gynaecological surgeon, Vinay has trained in minimally invasive laparoscopic and robotic gynaecological procedures, in both Australia and The United States. He has a special interest in endometriosis and also assists women who want to maximise their fertility before looking into more invasive procedures like IVF.

Melbourne Mothers, his private practice, is built around a family vision: as Vinay runs his practice with his wife, Dr Christine Sammartino - who is an obstetric medicine physician - you will occasionally meet their children and their dog at the practice. As a family working for families, Vinay and Christine also encourage you to bring your partner or your children to an obstetrics appointment. Vinay's practice locations are intentionally placed outside of the hospital as Melbourne Mothers does not view pregnancy as an illness. Moreover, by having practices in the community where our patients are and by having appointment times outside of normal business hours, the consultations are less stressful and traffic and parking are less of an issue.

Affiliations & Memberships