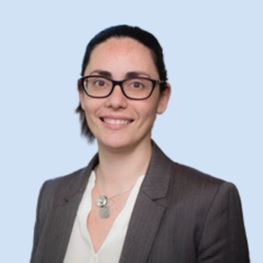 Areas of Interest
Hip & knee joint replacement.
Bone & soft tissue tumours
Orthobiologics (platelet rich plasma injection)
St Vincent's Private Hospital East Melbourne, VIC
St Vincent's Private Hospital Fitzroy, VIC
Victorian Bone & Joint Specialists
55 Victoria Parade,
Fitzroy, VIC 3065
T: 03 5752 5020
F: 03 8676 4916
Biography
A/Prof Claudia Di Bella is a Melbourne-based orthopaedic surgeon who specialises in the treatment of arthritis (hip and knee) as well as bone and soft tissue tumours.
A/Prof Di Bella uses advanced robotic and navigation technologies, in conjunction with 3D printing where required, to ensure maximum surgical precision and accuracy.
Claudia graduated from the University of Bologna, completing her orthopaedic training at the Rizzoli Institute in Bologna and following her move to Australia, she completed her fellowship in musculoskeletal tumours at St Vincent's.
Claudia obtained a PhD in oncology and experimental pathology in 2012 and has research interests in the use of 3D bio-printing technologies and stem cells for the treatment of joint injuries and diseases.