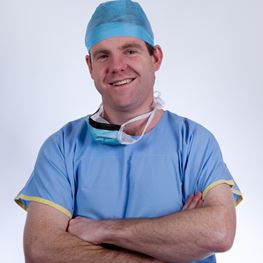 Areas of Interest
Urological cancer
Laparoscopic and robotic surgery
Urinary stones
Voiding dysfunction
Mater Hospital, North Sydney, NSW
Suite 2, Level 5
66 Pacific Highway
St Leonards NSW 2065
T: (02) 9043 2415
F: (02) 9650 4175
Biography
Dr Andrew Richards is a trained urologist who treats any condition that affects the bladder or kidney. He has a particular interest in urological cancers as well as advanced keyhole surgery techniques.
Dr Andrew Richards has been a practising urologist since 2008 and always strives to provide a timely and thorough service. He achieved his training in NSW before undertaking further specialised training in Basingstoke (UK) and Melbourne.
Andrew supervises two advanced trainees in the urology department and works in both the public and private sector. He performs all his robotic surgery at the Mater Hospital.