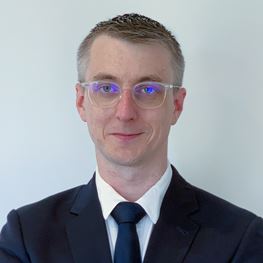 Dr Andrew Thorpe
BOralH, GDipDent, GDipDImplant, GDipClinDent, DClinDent, DICOI, MRACDS
Visit specialist website
Languages: English
Specialities
Oral Surgery (Maxillofacial)
Areas of Interest
- Wisdom teeth management
- Dental implantology incl dental implant placement & bone grafting
- Oral pathology management
Mater Hospital, North Sydney, NSW
Macquarie Oral & Maxillofacial Surgery
BMA House, Suite 501
35 Macquarie st, Sydney 2000
Biography
Dr Andrew Thorpe is a specialist Oral Surgeon whose focus is on surgery involving the mouth and associated structures, including the management of wisdom teeth and the placement of dental implants.
Dr Thorpe completed his Bachelor of Oral Health and Graduate Diploma of Dentistry from Griffith University in 2008, receiving awards in Academic Excellence for both degrees. Upon completion, he then worked for a decade in North Queensland. During this time, Dr Andrew Thorpe completed a Graduate Diploma of Dental Implantology and completed the requirements to be awarded Diplomate of the International College of Oral Implantologists.
Moving to Sydney, Dr Andrew completed a Graduate Diploma of Clinical Dentistry in Surgical Dentistry and a Doctor of Clinical Dentistry in Oral Surgery, both at the University of Sydney, fulfilling a long-term dream of registering as a Specialist Oral Surgeon. From this training, Dr Andrew was granted the inaugural Award for Academic and Clinical Excellence for his speciality training from the Australian and New Zealand Association of Oral Surgeons. Dr Andrew is also a Member of the Royal Australasian College of Dental Surgeons and a Clinical Lecturer at the University of Sydney.
Dr Andrew has a particular interest in the management of wisdom teeth; dental implantology including dental implant placement, replacement, and bone grafting; and general dentoalveolar surgery. Dr Andrew's research endeavours have principally focused on Oral Surgery education and evidence based Oral Surgery practice.