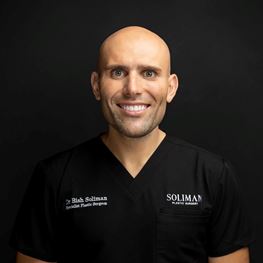 Dr Bish Soliman
FRACS (Plastic Surgery), MS (Plastic Surgery), MBBS (Hons 1), BCom
Visit specialist website
Languages: English
Specialities
Breast
Plastic & Reconstructive Surgery
Areas of Interest
Complex microsurgery (breast, head and neck)
Breast surgery (reconstruction, revision)
Aesthetic surgery
Skin cancer surgery
Mater Hospital, North Sydney, NSW
Royal North Shore Hospital Westmead Hospital
North Shore Health Hub, Tower A, Level 3, Suite 5, 7 Westbourne Street, St Leonards NSW 2065
T: 1300 37 2474
F: 1800 37 2474
Biography
Dr Bish Soliman is a Specialist Plastic Surgeon specialising in microsurgical reconstruction, aesthetic surgery as well as skin cancer surgery.
Dr Bish Soliman is a Sydney based Specialist Plastic and Reconstructive Surgeon specialising in complex microsurgical reconstruction including breast reconstruction, aesthetic surgery of the face, breast and body as well as skin cancer surgery.
After graduating from The King's School, Dr Soliman completed a Bachelor of Commerce degree at the University of Sydney. After working briefly at a major Sydney finance firm, he decided to pursue his passion and long-term goal of a career in medicine. He graduated from the University of Notre Dame at the top of his class, receiving First class honours and the prestigious Bower and Sherrard medal. He then went on to complete his junior medical training at Westmead Hospital during which time he was awarded Junior Medical Officer (JMO) of the Year, as well as a finalist for NSW Doctor of the Year.
Dr Soliman was then selected to undertake 5 years of advanced surgical training in Plastic and Reconstructive Surgery under the auspices of the Royal Australasian College of Surgeons (RACS). During this time, he was also awarded a Master of Surgery at the University of Sydney. After completing his training, he was granted the prestigious Morgan travelling fellowship by the RACS and completed 12 months of advanced sub-speciality training in highly contested international fellowships in North America. During this time, he was mentored by internationally renowned Surgeons, Dr Brian Peterson and Professor Edward Buchel, pioneers in aesthetic surgery, breast surgery and microsurgical reconstruction.
Dr Soliman has an interest in research, and is widely published on a range of topics including operating room efficiency and breast surgery. He is currently a research supervisor with the University of Sydney and is passionate about teaching and mentoring the future generation of Plastic Surgeons. He takes a keen interest in mentoring junior surgeons at both Westmead and Royal North Shore hospitals.