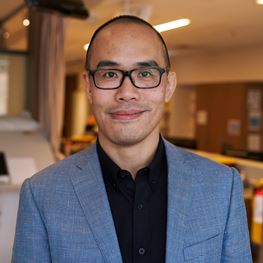 Areas of Interest
Chronic lymphocytic leukemia (CLL)
Non-Hodgkin lymphoma
St Vincent's Private Hospital Werribee, VIC
Dr Constantine Tam also takes Public Hospital appointments at St Vincent's Public Hospital Melbourne.
Melbourne Blood Specialists
Suite 501, Level 5
100 Victoria Parade
East Melbourne VIC 3002
T: (03) 9654 8906
F: (03) 9654 8909
Biography
Dr Constantine Tam is a haematologist committed to delivering the best possible care to people suffering from blood cancers. His heavy involvement with numerous local and international clinical trials affords his patients early access to the newest cancer therapies.
Dr Tam is an internationally-recognised expert in haematological malignancies, especially non-Hodgkin's lymphoma and chronic lymphocytic leukemia. Con graduated from the University of Melbourne in 1998, and then completed his specialist haematology training in Melbourne and the USA. Con is the Director of Haematology at St Vincent's Hospital and is the principal investigator in multiple ongoing local and international research projects. He's had his work extensively published in eminent peer-reviewed medical journals.