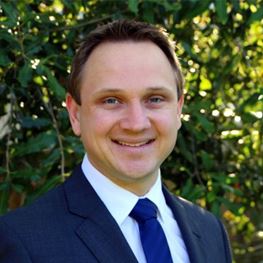 Dr Dale Murdoch
BSc, MBBS, FRACP
Languages: English
Areas of Interest
TAVI
Transcatheter Mitral Valve Repair & Replacement (MitraClip)
Aortic, Mitral, Tricuspid and Pulmonary Valve-In-Valve (VIV) Procedures
Valvuloplasty
ASD/ PFO Closure
Paravalvular Leak Closure
Mechanical Circulatory Support
St Vincent's Private Hospital Northside, QLD
St Vincent's Northside Specialist Centre
5 Hilltop Avenue
Chermside QLD 4032
T: (07) 3555 5915
F: (07) 3555 5916
Biography
Dr Dale Murdoch is a General and Interventional Cardiologist performing procedures at St Vincent's Private Hospital Northside.
Dr Dale Murdoch's special interests include structural heart disease intervention, transcatheter heart valves and transformative technology in healthcare. He graduated from The University of Queensland with a Bachelor of Science in 2002 (Anatomical and Biomedical Sciences) and a Bachelor of Medicine and Bachelor of Surgery in 2006. After graduation he completed his post-graduate training in medicine and cardiology and was awarded a Fellowship of the Royal Australasian College of Physicians (Cardiology) in 2013.
Dr Murdoch completed a fellowship in interventional cardiology at The Prince Charles Hospital, mastering a wide range of invasive cardiology techniques and technologies focused on contemporary complex coronary intervention and stenting.
Under the mentorship of Prof John Webb MD, Dr Murdoch completed a 2-year fellowship in structural heart disease intervention and transcatheter heart valves at St Paul's Hospital and University of British Columbia, Vancouver, Canada.
Research, science and technology are strong focus for Dr Murdoch. He has authored three book chapters and over 40 peer-reviewed articles, and regularly presents at national and international scientific meetings. He is also a Senior Lecturer in Medicine at The University of Queensland.
Affiliations & Memberships