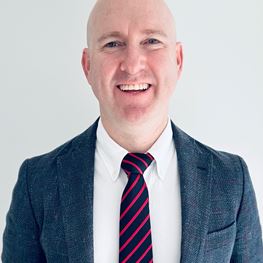 Dr Damian Fry
BNurs, MBBS, FRACS
Languages: English
St Vincent's Private Hospital Toowoomba, QLD
Toowoomba Specialists
22 Herries Street
East Toowoomba QLD 4350
T: (07) 4529 8676
F: (07) 4599 3360
Biography
Dr Damian Fry is a General Surgeon with a strong connection to the country and special interests in melanoma and hernia surgery.
Damian's interest in melanoma was piqued during his time on the General Surgery training program, when he spent six months with the Melanoma Unit at the Princess Alexandra Hospital (PAH). Damian has successfully introduced a Melanoma Unit at Toowoomba Hospital and maintains close ties to the PAH.
Damian is from Orange in country NSW, which inspired his strong ongoing connection to Rural General Surgery. After completing high school, he joined the Army and was stationed locally at Cabarlah, north of Toowoomba, with a highlight being a stint peacekeeping in the Pacific. Following his time in the Army, Damian trained as a registered nurse and worked in the emergency department and theatre as a scrub/scout and recovery nurse. He commenced surgical training in 2014 and was awarded FRACS in General Surgery 2019.
Damian was appointed as Rural Coach for the Royal Australasian College of Surgeons (RACS) in 2019 and is a member of the RACS Rural Surgical Committee. He was appointed as a Director of General Surgeons Australia (GSA) in 2020, and has Chaired the GSA Rural Post Fellowship Education and Training Committee since 2021.
Damian is a senior lecturer with the University of Queensland and enjoys his role training both surgical trainees and medical students. He is involved with rural perioperative theatre training and is also an instructor with the statewide anaesthesia and perioperative care clinical network.
Damian has presented at rural surgical conferences on many occasions, as well as the RACS Annual Scientific Congress.
Memberships include:
RACS (Royal Australasian College of Surgeons)
GSA (General Surgeons Australia)
GESA (Gastroenterological Society of Australia) certified in Colonoscopy and Gastroscopy
Dr Fry will be consulting at Toowoomba Specialists on Herries Street.