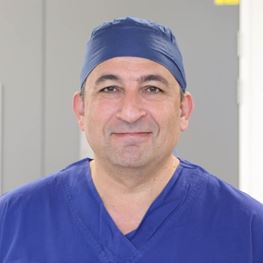 Dr David Joseph
MBBS FRACS
Languages: English
Specialities
Bariatrics
General Surgery
Areas of Interest
Bariatric Surgery
Hernia Repair
Gallbladder Surgery
Liver, Pancreas, Adrenal, Kidney Surgery
Upper GI Cancer
Mater Hospital, North Sydney, NSW
RPAH Medical Centre
Suite 306, 100 Carrillon Ave
Newtown NSW 2042
T: (02)9565 5505 and (02) 9565 5514
F: (02) 9519 4670
198 Pacific Highway
Crows Nest NSW 2065
Biography
Dr David Joseph is a highly trained surgeon specialising in liver, stomach and pancreas conditions. Extensively qualified, he is highly skilled in liver transplants and complex keyhole surgeries.
Dr David Joseph is a widely experienced hepatobiliary and laparoscopic surgeon who treats a wide spectrum of related conditions. He also provides a comprehensive service for bariatric patients including weight loss surgery, gastric sleeve surgery, gastric bypass procedures and revision bariatric surgery. David has particular specialism in benign and malignant conditions of the upper gastrointestinal tract, including the liver, stomach, and pancreas. He is skilled in advanced laparoscopic techniques (keyhole surgery) including laparoscopic gallbladder surgery, laparoscopic inguinal and incisional hernia repair.
After studying medicine at the University of Sydney, David was awarded his Bachelors of Medicine and Surgery in 1996. He undertook training in general surgery at Royal Prince Alfred and Concord Hospitals and passed the Fellowship of The Royal Australasian College of Surgeons in 2002. He then pursued further training in surgical oncology working as the surgical superintendent at Royal Prince Alfred Hospital in 2005.
During this period David gained further training and exposure to complex hepatobiliary surgery at Royal Prince Alfred Hospital. A fellowship in liver transplantation at Royal Prince Alfred Hospital was undertaken in 2006 along with an appointment as a staff specialist surgeon. David went on to achieve a fellowship in transplantation surgery at the Hospital of the University of Pennsylvania where he gained much experience in complex hepatobiliary surgery, living donor liver transplantation, and other aspects of transplantation surgery as well as bariatric surgery.
Subsequently, David was appointed as a VMO at Royal Prince Alfred Hospital where he currently works as an upper gastrointestinal, hepatobiliary, and transplant surgeon. He is also a VMO at Concord Repatriation General Hospital, where he works as an upper gastrointestinal surgeon, as well as a VMO and head of department of gastrointestinal surgery at the Mater Hospital.