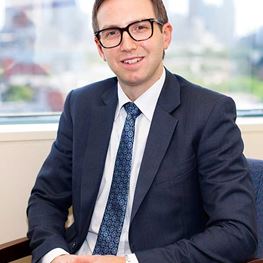 Areas of Interest
Venous disease
Aortic aneurysm
Diabetic feet
Peripheral arterial disease
St Vincent's Private Hospital Fitzroy, VIC
St Vincent's Private Hospital Kew, VIC
St Vincent's Private Kew
Consulting Suite 1
5 Studley Avenue
Kew VIC 3101
Suite 3
210 Burgundy Street
Heidelberg VIC 3084
Level 1
157 Scoresby Road
Boronia VIC 3155
Biography
Dr Domenic Robinson is a vascular, endovascular surgeon consulting at St Vincent's Private Hospitals. He performs surgery on varicose veins, blocked or narrowed arteries and arterial aneurysms. He will advise treatment options, including benefits and risks, to ensure you are fully informed.
Dr Robinson is highly skilled in open vascular surgery and minimally-invasive endovascular procedures. His optimal treatment strategy is to use the least invasive but most effective treatment option available.
Domenic graduated from Monash University with honours and completed his internship at the Alfred Hospital. He then worked at St Vincent's Hospital in Sydney, gaining experience in a broad range of surgical specialties.
Domenic entered into the vascular surgery training program garnering expertise from local and international experts in open and endovascular surgery at Geelong Hospital, Queen Elizabeth Hospital, The Austin Hospital and St Vincent's Hospital.
Affiliations & Memberships