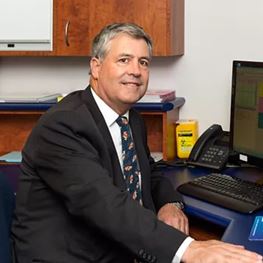 Dr Eric Donaldson
MBBS, FRACS
Languages: English
Areas of Interest
Breast cancer surgery
Gastroscopy
Colonoscopy
Skin cancer surgery
Thyroid and parathyroid surgery
St Vincent's Private Hospital Toowoomba, QLD
Downs Endoscopy Services
Ground Floor, Entrance 2
St Vincent's Private Hospital
22–26 Scott Street
Toowoomba QLD 4350
Biography
Dr Eric Donaldson is a highly qualified general surgeon who, as a Toowoomba native, has a unique insight into the community he treats both through personal and professional experience.
Dr Donaldson's primary surgical interests include gastroscopies, colonoscopies, breast cancer surgery, thyroid and parathyroid surgery, and skin cancer surgery.
Dr Eric Donaldson attended the University of Queensland where, in 1986, he graduated with a Bachelor of Medicine, Bachelor of Surgery. Since becoming a Fellow of the Royal Australasian College of Surgeons in 1994, he has sat on several of their sub-committees including endocrine surgery, surgical oncology and rural surgery. He's also a member in a number of advisory groups, including the Queensland Board of General Surgery and the Queensland State-wide Surgical Advisory Committee.
Eric is enthusiastic about the training of junior doctors, holding the position of Senior Clinical Lecturer at the University of Queensland's Rural Clinical School in Toowoomba.