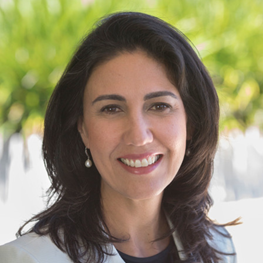 Areas of Interest
Female hormonal issues
Type 2 diabetes
Obesity
Osteoporosis
Adrenal disorders
Pituitary
Mater Hospital, North Sydney, NSW
Suite 3
319 Pacific Highway

T: (02) 9157 9095
F: (02) 9157 9056
Biography
Dr Flavia Bueno is an Endocrinologist with special interest in female hormonal issues ( Menopause, Menstrual Irregularities, PCOS..), type 2 diabetes, obesity, osteoporosis, adrenal disorders and pituitary.
Dr Bueno completed dual Endocrinology training . Traineed overseas in 2002 and in Australia (Sydney) after she relocated in 2008. Part of her training was done at The Women's Hospital in Melbourne, and she has been a visiting doctor at female endocrinology department of Karolinska Institute in Sweden.
Dr Bueno was involved with research on PCOS and Obesity and has worked as a Senior Lecturer in Endocrinology, at the Western Sydney University. She helped implement the Female Endocrinology Clinic at Campbelltown hospital, where she used to hold a position as Honorary Medical Officer. She also coordinated the Diabetes Complications Clinic or IPL (Interprofessional Learning Clinic) at the Macarthur Clinical School, where she would teach medical and allied health students. Dr Bueno is available for consultations at Sydney Endocrinology/ North Sydney.
Dr Bueno enjoys working with all aspects of endocrinology and with a 20 year experience, provides evidence based medicine in a caring and patient centred manner.
She remains a passionate advocate for all women's causes.