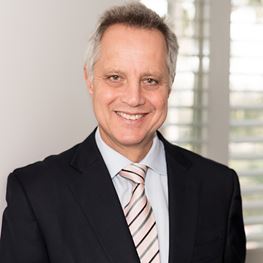 Areas of Interest
High and low-risk obstetrics
Diabetes in pregnancy
Pre-eclampsia
Pregnancy with pre-existing hypertension
Mater Hospital, North Sydney, NSW
Mater Medical Centre
198 Pacific Highway
Crows Nest NSW 2065
T: (02) 8920 0137
F: (02) 8920 0636
Biography
Dr Geoff Brieger is a highly experienced obstetrician who has been delivering exceptional care for mothers and babies for over 30 years. He is particularly interested in high blood pressure in pregnancy (gestational hypertension and pre-eclampsia) and works with both low and high-risk pregnancies.
Dr Geoff Brieger has considerable experience in this area both domestically and overseas. Graduating from the University of Sydney in 1987, he completed his training at Royal Prince Alfred Hospital and King George V Memorial Hospital for Mothers and Babies. This resulted in an appointment as Senior Registrar, followed by Clinical Superintendent by 1994.
Geoff then travelled to the Chinese University of Hong Kong as a visiting lecturer and subsequently as Clinical Associate Professor in obstetrics and gynaecology. While there he also completed sub-speciality training in urogynaecology.
Geoff's dedication to academia and teaching has been ongoing. With over 20 publications in peer-reviewed international journals, he has been awarded research grants both in Australia and overseas. He continues to be actively committed to the treatment and research of pre-eclampsia and hypertension in pregnancy, and was instrumental in the formation of the research organisation PEARLS — a body that raises funds for research into pre-eclampsia.