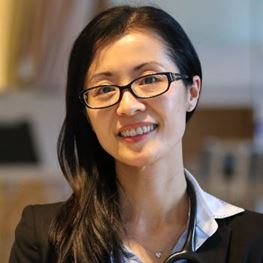 Prof Hang Quach
MBBS(Hons), MD, SpecCertOC, FRACP, FRCPA
Languages: English
Areas of Interest
Myeloma
Lymphoma
Myeloid disorders
St Vincent's Private Hospital Fitzroy, VIC
St Vincent's Hospital
Suite 501
100 Victoria Parade
East Melbourne VIC 3002
T: (03) 9654 8906
F: (03) 9654 8090
Level 2, 41 Victoria Parade,
VIC 3065
T: (03) 9654 8906
F: (03) 9654 8090
Biography
Prof Hang Quach is a haematologist with clinical and research interests in haematological malignancy, in particular myeloma, lymphoma and myeloid disorders.
Professor Hang Quach, is a consultant clinical and laboratory haematologist based at St.Vincents Hospital. She is professor of haematology at the University of Melbourne and is the Departmental Head of Clinical Haematology and Clinical Haematology Research at St. Vincent's Hospital Melbourne . Her clinical area of expertise is haematological malignancy in particular multiple myeloma, lymphoma and myeloid disorders.
Prof Quach's career is accentuated by her strong involvement in clinical and translational research, which focus on novel therapeutics for the treatment of blood cancers not only to increase treatment options for patients, but to ensure the access to the most effective treatment that may not otherwise be available to Australians. Her translational research focuses on myeloma immunology and the cancer-microenvironment. Through competitive grants, industry collaborations, and philanthropy, she has secured research funding of more than $14 million towards myeloma research and is highly published in the field of in multiple myeloma.
In addition to her role as co-chair of the myeloma working group of the Australasian Leukaemia Lymphoma Group (ALLG), Prof Quach also serves as the deputy-chair of the Myeloma Scientific Advisory Group (MSAG) for Myeloma Australia, where she leads the development and biennial update of the Australian National Treatment Guideline for Multiple Myeloma. She is passionate about improving the standard of care for patients with blood cancers in Australia, not only through clinical care and research, but also through her active roles on steering committees of a number of national and international health care bodies.
Affiliations & Memberships