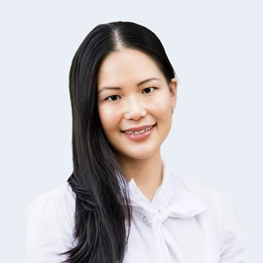 Areas of Interest
Polyps and Fibroids
Abnormal periods
Pelvic pain and endometriosis
Mater Hospital, North Sydney, NSW
Suite 1
295-303 Pacific Hwy
Lindfield, NSW, 2070
T: 1300 675 125
F: (02) 9161 4190
Suite 103, Lv 1,
10 Norbrik Drive
Bella Vista, NSW, 2153
T: 1300 675 125
F: (02) 9161 4190
Biography
Dr I-Ferne Tan is a highly qualified reproductive surgeon and fertility specialist. She is committed to providing supportive, compassionate, and all-encompassing care to her patients.
She will take the time to listen and connect, ensuring each patient has an individualised treatment plan that incorporates their goals and values. She believes in minimally invasive medicine. This means utilising the least invasive method to achieve the best outcome for her patients.

After completing her specialist training in obstetrics and gynaecology, I-Ferne has undertaken extensive additional training, including local and international fellowship to offer the latest advances in reproductive surgery. She has a Masters degree in Reproductive Medicine, and delivers comprehensive fertility treatment, including IVF, through a fertility company with the highest success rate in Australia.

I-Ferne is a skilled gynaecological surgeon, focusing on minimally invasive surgical (key-hole) techniques to ensure the best outcomes for her patients, with minimal scarring, minimal pain and minimal recovery time. This includes key-hole surgery for advanced endometriosis, hysterectomy, ovarian cysts, fibroids, tubal microsurgery, and reversal of previous sterilisation procedures. She is an expert in hysteroscopy and is one of the very few gynaecologists in Australia with the skills to perform an awake hysteroscopy (no general anaesthetic) to assess and treat problems inside the uterus such as polyps, fibroids, scar tissue, trapped IUDs, miscarriages, and retained products.

I-Ferne is a Fellow of the Royal College of Obstetricians and Gynaecologists and trains medical students and junior doctors (registrars) through her public appointment at Royal North Shore Hospital and Macquarie University.