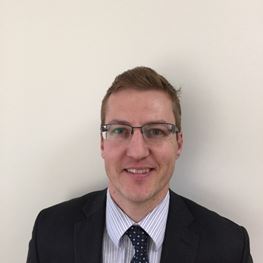 Specialities
Respiratory & Sleep Medicine
Areas of Interest
Sleep medicine
Chronic obstructive pulmonary disease Complex sleep disorders
Lung cancer
St Vincent's Private Hospital Werribee, VIC
Wyndham Private Specialist
Consulting Suites
242 Hoppers Lane
Werribee VIC 3030
T: (03) 9908 2998
F: (03) 8742 1235
Biography
Dr James Bartlett is a respiratory and sleep physician providing individualised holistic care for people with respiratory and sleep complaints.
He has expertise in complex sleep disorders, lung cancer and endobronchial and clinical ultrasound. Understanding the physical and emotional toll that respiratory and sleep conditions can take, James recognises that the key to improving quality of life requires holistic treatment solutions tailored to each person's unique needs.
James is passionate about quality and safety in the healthcare sector. As such he is dedicated to providing high-standard evidence-based services that use the latest technologies in order to optimise diagnostic accuracy and disease management.