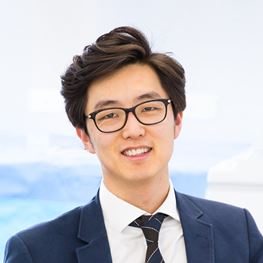 Specialities
Oral Surgery (Maxillofacial)
Areas of Interest
Orthognathic surgery
Facial trauma and reconstruction
Paediatric oral and maxillofacial surgery
Mater Hospital, North Sydney, NSW
Macquarie Oral & Maxillofacial Specialists
501/135 Macquarie Street
Sydney NSW 2000
T: (02) 9247 2817
F: (02) 9251 4612
Hornsby OMS
Suite 714/ 1C Burdett Street
Hornsby NSW 2077
T: (02) 9477 2279
F: (02) 9475 1324
Level 2, Suite 7
Bankstown Oral Surgery
402-410 Chapel Road
Bankstown NSW 2200
T: (02) 9157 2718
F: (02) 9157 2719
Biography
Dr James Kim is a leading surgeon who specialises in conditions afffecting the mouth, jaw, face and neck. Highly qualified in both dentistry and medicine, he specialises in children's facial trauma.
Dr James Kim is a specialist oral and maxillofacial surgeon with subspecialty expertise in paediatric surgery, corrective jaw surgery and facial trauma surgery. Currently a consultant oral and maxillofacial surgeon at Westmead Hospital, James is actively involved in training the next generation of surgeons at one of the largest maxillofacial units in the country.
Having studied dentistry at the University of Queensland, James went on to study medicine at ANU. He worked as a doctor in the ACT and NSW before completing his specialist surgical training at Canberra Hospital and Westmead Hospital. He was then selected for 2 prestigious subspecialty fellowship positions in Melbourne.
Firstly, he completed a fellowship in paediatric oral and maxillofacial surgery at the Royal Children's Hospital, Melbourne. This gave him valuable training in the surgical management of children with complex congenital abnormalities, craniofacial and cleft deformities. Secondly, he completed a fellowship in orthognathic and trauma surgery at the Royal Melbourne Hospital which offered unparalleled experience in treating a wide manner of complex dentofacial deformities and severe facial injuries.
Also a leading dental practitioner, James completed further postgraduate studies in implant and cosmetic dentistry gaining his graduate diploma of clinical dentistry – oral implants.
Committed to education, James is a clinical associate lecturer at the University of Sydney where he engages in a multidisciplinary clinic with orthodontic postgraduates for the treatment of orthognathic surgery cases. He is also currently involved in mentorship initiatives with younger dentists, teaching and educating around crown and implant placement.
He is the principal course director for a number of international implant companies and regularly conducts lectures in the field of dental implants, cosmetic dentistry and pain management both domestically and overseas.
Affiliations & Memberships