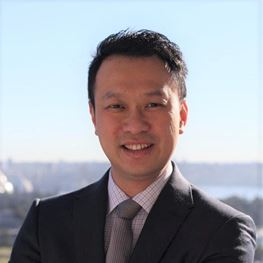 Dr James Pang
MBBS, MMed, FRACP
Languages: Cantonese, English, Mandarin
Specialities
Gastroenterology & Hepatology
Areas of Interest
Gastroscopy and colonoscopy
Polyp detection
Bowel cancer screening
Viral hepatitis
Bowel disease
Mater Hospital, North Sydney, NSW
Suite 112, Level 1
63a Archer Street
Chatswood NSW 2067
T: (02) 8971 5067
F: (02) 8212 5875
35 Etna Street
Gosford NSW 2250
T: (02) 8971 5067
F: (02) 8212 5875
Biography
Dr James Pang is a gastroenterologist and hepatologist who is actively involved and passionate about teaching future specialists, junior doctors and medical students.
Dr Pang obtained his medical degree from the University of NSW before completing his gastroenterology training at St George and Campbelltown Hospital. He became a Fellow of the Royal Australian College of Physicians (FRACP), before obtaining his Masters in Medicine through the University of Sydney. Dr Pang then spent two years working abroad in Hong Kong as a clinical research fellow, focusing on viral hepatitis (Hepatitis B and C) and non-alcohol fatty liver disease. He is a Conjoint Committee accredited endoscopist (gastroscopy and colonoscopy) and a member of the Gastroenterological Society of Australia (GESA).
Dr. Pang is passionate about education and training of future generation of doctors. He is actively involved in medical education and is a College supervisor of gastroenterology advanced trainees at Gosford Hospital. He is a conjoint lecturer at the University of Newcastle.
Dr. Pang believes in close collaboration between health professionals and patients to improve communication and optimise patient outcomes.
Affiliations & Memberships