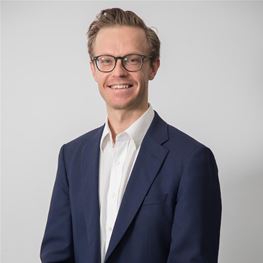 Areas of Interest
Prostate cancer and prostate health
Bladder cancer robotic surgery
Robotic-assisted surgery
Focal therapy
St Vincent's Private Hospital Sydney, NSW
Suite 905, Level 9
St Vincent's Clinic
438 Victoria Street
Darlinghurst NSW 2010
T: (02) 8046 8050
F: (02) 8046 8090
The Urology Practice
Suite 15, Level 1
50–52 Urunga Parade
Miranda NSW 2228
T: (02) 8046 8050
F: (02) 8046 8090
Holdsworth House Medical Practice
Level 3
26 College Street
Sydney NSW 2010
T: (02) 9331 7228
F: (02) 8046 8090
Biography
Dr James Thompson is an experienced robotic and minimally-invasive urological surgeon.
After graduating medicine from the University of NSW with first class honours, James undertook a 2-year residency at Royal North Shore Hospital before completing a 6-year Royal College of Surgeons accredited training program in urological surgery.
He travelled to the UK for a position as senior clinical fellow in robotic prostate and bladder cancer surgery at University College London Hospital and, in 2017, received the honour of being appointed a consultant surgeon performing robotic prostate and bladder cancer surgery there. Returning to Sydney in 2018, he brought with him an offering of sub-specialised robotic cancer surgery to Australians.
James is a senior lecturer at UNSW and a senior research fellow at the Kinghorn Cancer Centre. He has also completed a PhD in prostate cancer research, published over 40 peer-reviewed publications and textbook chapters, and is an investigator on several clinical trials.