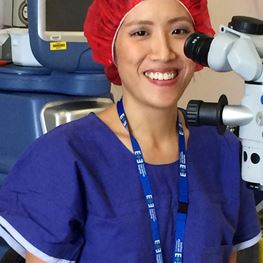 Areas of Interest
Cataract surgery
Glaucoma surgery
General ophthalmology
St Vincent's Private Hospital Kew, VIC
Royal Victorian Eye and Ear Hospital
Hawthorn Eye Clinic
829 Glenferrie Road
Kew VIC 3101
T: (03) 9819 2882
F: (03) 9819 3413
Armadale Eye Clinic
93 Kooyong Road
Armadale VIC 3143
T: (03) 9079 0888
F: (03) 8692 1131
Biography
Dr Jennifer Fan Gaskin is an ophthalmologist with specialist training in glaucoma and cataract surgery. She offers consultations at Hawthorn Eye Clinic and Armadale Eye Clinic.
She graduated from the University of Auckland, School of Medicine with Distinction, and underwent Ophthalmology training in Auckland and Hamilton. She spent two years in sub-specialist glaucoma training in Auckland and Melbourne, respectively, and was actively recruited to join the Royal Victorian Eye and Ear Hospital at the completion of her fellowship. She was also offered a sought-after position at the Centre for Eye Research Australia, where she now leads Ocular Fibrosis Research.
In 2021 she was named a Superstar of STEM by Science and Technology Australia.
She is a Fellow of the Royal Australian and New Zealand College of Ophthalmologists, a member of the American Academy of Ophthalmology and a member of the Association for Research in Vision and Ophthalmology.
She is a passionate patient advocate through her role on Glaucoma Australia's Clinical Advisory Panel. She is very active in the wider ophthalmic community where she holds multiple leadership roles:
-
Director of the Australian Vision Research (formerly known as Ophthalmic Research Institute of Australia)
- Victorian Representative of the Australian and New Zealand Glaucoma Society
- Reviewer for the Royal Australian and New Zealand College of Ophthalmologists' Scientific Review Panel
For more information, please see
drjenniferfangaskin.com
.