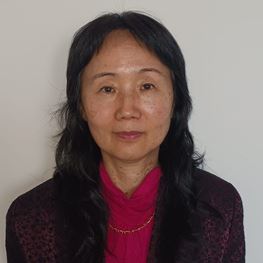 Dr Jenny Jin
MBBS BSC CAIME FAFRM RACP FFPMANZCA
Languages: English
Specialities
Pain Medicine
Rehabilitation Medicine
Areas of Interest
Rehabilitation of neurological disorders
Spinal cord and brain injuries
Spasticity management with Botulinum toxin
St Vincent's Private Hospital Brisbane, QLD
St Vincent's Private Hospital Brisbane
411 Main Street
Kangaroo Point QLD 4169
T: 07 3240 1111
F: 07 3240 1367
Biography
Dr Jenny Jin is an admitting rehabilitation and pain physician at St Vincent's Private Hospital Brisbane.
Dr Jin has dedicated her career to work in the field of rehabilitation medicine and pain medicine with over 20 years' experience.
She has extensive teaching experience with University of NSW, University of Sydney, and Australian National University in the past. She is also a visiting professor in Yang Jing University in Beijing.
In addition, Dr Jin is also an accredited Botulinum toxin injector for adults suffering from spasticity-related neurological conditions.

Dr Jin's special interests include:
Rehabilitation of neurological disorders
Spinal cord injuries and brain injury
Spasticity management with Botulinum toxin
General rehabilitation and reconditioning of chronic disease
Chronic pain management