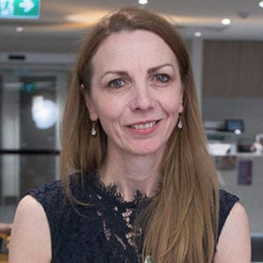 Areas of Interest
Breast
Breast survivorship
Gynaecological
Lung
Cardio-oncology
Palliative radiotherapy
St Vincent's Private Hospital Sydney, NSW
GenesisCare
Level A, 438 Victoria Street
St Vincent's Clinic
Darlinghurst, NSW 2010
Biography
Dr Joanne Toohey is a radiation oncologist at GenesisCare St Vincent's Hospital, and a visiting scientific officer at the Garvan Institute of Medical Research. Her special clinical interests include breast cancer, cardio-oncology and palliative radiotherapy.
Dr Toohey is an integral member of the breast multidisciplinary team, with a special interest in survivorship and in particular, cardio-oncology in the management of a patient with breast cancer. She has collaborated with Dr Daniel Cehic (cardiologist) to provide a cardio-oncology clinic to all her patients with left sided breast cancer undergoing radiotherapy. Her service also incorporates a dedicated lymphoedema therapist to ensure her patients receive the optimal care both during and after treatment.
Prior to her current appointment, Dr Toohey worked at Chris O'Brien Lifehouse and was a senior lecturer at the University of Sydney. She is currently a conjoint lecturer at the University of New South Wales and the University of Notre Dame and coordinates medical student rotations within the radiation department.