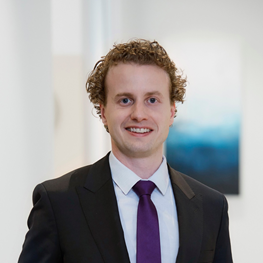 Areas of Interest
Improving care coordination and outcomes for people with diabetes-related foot complications.
Mater Hospital, North Sydney, NSW
Suite 3, 319 Pacific Highway
North Sydney NSW 2060
T: 02) 9157 9095
F: (02) 9157 9056
Biography
Dr Lasschuit practices in all areas of general endocrinology, with a particular interest in the wholistic treatment of diabetes and thyroid conditions. Dr Joel Lasschuit joined the Mater Hospital team as an Endocrinologist in 2017. He is appointed as a Staff Specialist in the Department of Endocrinology at St Vincent's Hospital Sydney, Consultant Endocrinologist at Sydney Endocrinology in North Sydney, Visiting Scientist in the Diabetes & Metabolism Division at the Garvan Institute of Medical Research, Conjoint Senior Lecturer in the Faculty of Medicine at the University of New South Wales, and High Risk Foot Service Database Manager at the National Association of Diabetes Centres.
Dr Lasschuit completed his medical degree with honours at the University of Sydney in 2010, initially working as a junior medical officer at Liverpool Hospital. In 2017, he was admitted as a fellow of the Royal Australasian College of Physicians having completed specialist training between St Vincent's Hospital Sydney and Royal Prince Alfred Hospital. His PhD, awarded in 2023, investigated influences on bone health in diabetes with a particular focus on Charcot foot, an uncommon diabetes-related foot complication. Striving for excellence in clinical care, he attends conferences in diabetes and endocrinology annually to stay abreast the latest evidence. He believes people should be empowered through knowledge to play an active role in the management of their endocrine condition.
A particular passion of Dr Lasschuit's is improving care coordination and outcomes for people with diabetes-related foot complications. He co-leads the High Risk Foot Service at St Vincent's Hospital Sydney, which is nationally accredited as a Centre of Excellence. He manages the Australian Diabetes Foot Registry involving some forty High Risk Foot Services, in collaboration with the National Association of Diabetes Centres and Australian Diabetes Society. He has co-authored the national Guidelines and Strategy in this area by invitation from Diabetes Feet Australia. He convenes a quarterly meeting of interdisciplinary clinicians from Australia and abroad to discuss complex issues pertaining to diabetes foot. Through active engagement in research, he frequently presents at national and international conferences.