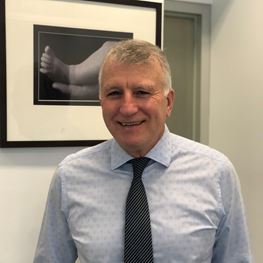 Specialities
Maternity (Obstetrics)
Gynaecology
Areas of Interest
Family planning
Complex and high-risk pregnancies
Antenatal care
General gynaecology
St Vincent's Private Hospital Fitzroy, VIC
St Vincent's Private Hospital Werribee, VIC
St Vincent's Hospital
Suite C34, Level 3, 41 Victoria Parade
Fitzroy
VIC 3065

T: 0448 799 893
F: (03) 9492 5253
Consulting Suites
St Vincent's Private Hospital Werribee
240 Hoppers Lane
Werribee VIC 3030
T: 0448 799 893
F: (03) 9492 5253
Biography
Dr Joseph Drentin is an obstetrician and gynaecologist who works collaboratively with his patients to best support them through all stages of their lives.
As well as conventional forms of analgesia, Joseph is happy to integrate calm-birthing and hypno-birthing techniques into birthing plans, aiming to deliver all babies in a calm and safe environment.
He has extensive experience in complex and high-risk pregnancies, and laparoscopic techniques for treating general gynaecological concerns including benign ovarian cysts, ectopic pregnancy, and mild-to-moderate endometriosis.
Joseph studied medicine at Melbourne University and graduated in 1985. He subsequently worked in general practice and emergency medicine, before undertaking formal training in obstetrics and gynaecology at hospitals in Brisbane and Melbourne.