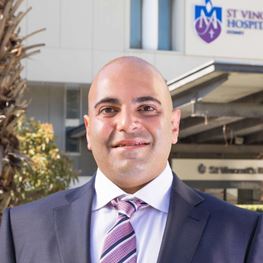 Specialities
Diagnostic Radiology
Neurology
Areas of Interest
Minimally-invasive treatment
Transverse sinus stenting
Treatment of Vein of Galen Malformations
Sclerotherapy
Radial access
St Vincent's Private Hospital Sydney, NSW
Sir Francis McGuigan Wing
Suite 1401, Lvl 14
406 Victoria Road
Darlinghurst, NSW 2010
T: (02) 8382 6252
F: (02) 8382 6251
Biography
Dr Bhatia provides expert minimally-invasive care to adult and paediatric patients with aneurysms and vascular malformations of the brain, face, neck, and spine at St Vincent's Private Hospital, Sydney.
After completing radiology training (FRANZCR) at St Vincent's Hospital in 2016, Dr Bhatia completed three further years of fellowship training in interventional neuroradiology (INR) at Royal Prince Alfred Hospital, Royal North Shore Hospital, Toronto Western Hospital, and the Hospital for Sick Children (Toronto).
During his time at the world-renowned Toronto Western Hospital, he was trained by Professors Timo Krings and Vitor Mendes Pereira using cutting-edge advances in endovascular (keyhole) treatment of brain aneurysms, dural fistulae, and AVMs. During his time in Toronto he was involved in the first-ever robotic endovascular treatments for brain aneurysms as well as learning treatments for babies with rare brain vascular malformations. In conjunction with his colleague Dr David Lord, Dr Bhatia treats Vein of Galen Malformations in infants at the Children's Hospital Westmead.
Dr Bhatia has more than 20 journal and book chapter publications, holds a PhD from the University of Sydney, and is a clinical senior lecturer with UNSW and Macquarie University. Outside of work, he enjoys spending time with his wife and three sons, watching cricket, and playing the piano.